Aldi is rapidly growing in the United States, with around 1,800 stores in 35 states, because of its super-low prices on brand-name products.
Around 90% of Aldi's products are store brands, most of which mimic the taste and packaging of national brands. With so many options, it is important to determine the top Aldi brands.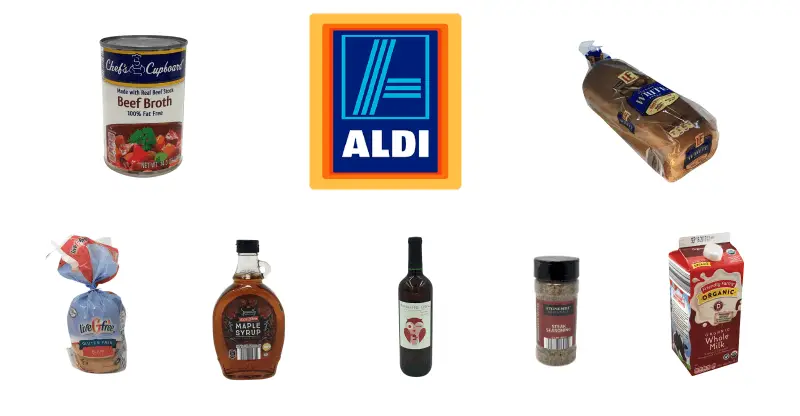 The following is a list of the top nine Aldi brands you must add to your grocery shopping list.
L'Oven Fresh White Bread
A 20-ounce loaf of Aldi foods L'oven Fresh white bread is under $1.00 with which even Walmart cannot compete. The price of national brand bread is almost three times the cost or more. The taste is just as good as any of the bigger name companies.
Burman's Tomato Ketchup
With national brands like Heinz priced almost double that of Burman's Tomato Ketchup, this Aldi store brand tastes just as good, if not better. Why pay more for a product that is of equal enjoyment?
Chef's Cupboard
With costs under $1 per can, Chef's Cupboard is available in beef broth, chicken broth and veggie broth with comparable products costing double the price for the same taste. The canned broths are flavorful and an excellent addition to your grocery shopping list. These options are also offered as organic foods.
Fresh Meat Specials
Every Wednesday, Aldi publishes a Fresh Meat Special Buy which can range from brisket to boneless pork chops to top cuts of meat. Of course, these meats are at extremely low prices and are an excellent option for planning freezer meals. It is important to note that these specials go fast as the cuts are available in limited amounts.
Friendly Farms Brand Milk
With the cost of a gallon of milk less than $1.50, the Friendly Farms brand offers a great deal. With the price significantly less than national brands and even other store brands, the taste is exactly the same as other milk. The price is higher for organic milk. The Friendly Farms brand also offers other types of milk, sour cream, cheese, and dairy products.
liveGfree
The liveGfree brand is a line of gluten-free products that are worth checking out. The Southwest Veggie stuffed sandwich is an excellent lunch option price under $3 for two which is $2 less expensive than similar products. Other gluten-free Aldi foods (some organic foods) products include gluten-free crackers, pretzels, cookies, and baking mixes.
Specially Selected Pure Maple Syrup
With the lone ingredient listed as 100% pure maple syrup, the Specially Selected brand is just that: pure maple syrup making it one of many excellent organic foods offered by Aldi brands. In contrast to the national brands where the main ingredients include, high fructose corn syrup, cellulose gum, caramel color and water, the Specially Selected brand is a considerably healthier addition to your grocery shopping list.
Stonemill Spices
With some spices priced under $1.00 for an entire container, Stonemill offers huge savings over national brands without a loss in taste. Although Stonemill does not have some of the more specific spices, the regular paprika, garlic powder, salt, pepper, cumin, etc. variants are readily available.
Winking Owl Wine
With an incredible assortment of wines that taste amazing at low prices, Winking Owl tops the pack. With a variety of the most common wines, Winking Owl varieties include pinot grigio, Shiraz, Chardonnay, Merlot, Zinfandel, and cabernet sauvignon.
What are some of the benefits of buying Aldi brands?
Aldi brands often offer the same quality as name-brand products at a lower price. Additionally, Aldi has a satisfaction guarantee on all their products, so you can try them risk-free.