If you love Italian food, then there's nothing better than preparing your favorite dishes with freshly made pasta. Here's a quick guide on buying fresh pasta from a grocer near you!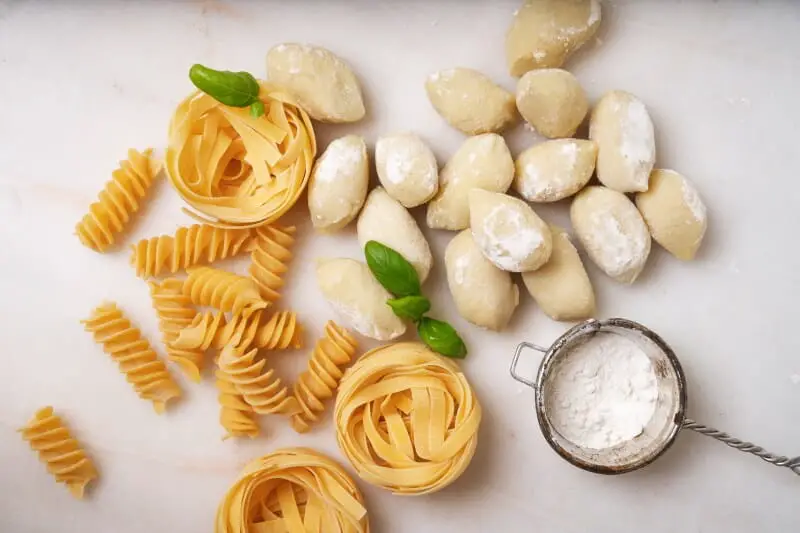 Fresh, homemade pasta will always taste better than the dried version found in the bulk aisle or sold in cardboard boxes. However, homemade pasta is not the easiest craft to master, so we've compiled a guide to help you find the best freshly made pasta in stores near you and online.
What to consider when buying fresh pasta in-store
Buying fresh pasta is a simple process that doesn't require knowledge of creating the product to find a package with perfect pasta. Some of the things you must look out for are some of the same qualities you strive for when creating pasta yourself.
Make sure the dough doesn't have too much flour on it. If there's too much flour, the dough will dry out, leaving you with a crumbly mess when trying to prepare a meal.
With this in mind, you'll also want to inspect each package to ensure there aren't many crumbs lying around in the container, as this typically indicates pasta that's too dry.
As with any dough, fresh pasta dough can get moldy if subjected to too much liquid or moisture. Ensure that you've chosen a container of pasta with no liquid sitting in the bottom and does not appear to have moisture droplets collecting on the inside.
An obvious thing to watch out for is an expired sell-by date. Always check the date on fresh pasta to ensure you have plenty of time to cook the product before it's spoiled.
Next time you're off buying fresh pasta, be sure to check each of the tips to ensure the pasta is at its peak of freshness.
Also Read: Cooking and Shopping Tips for Sun-Dried Tomatoes
The endless fresh pasta varieties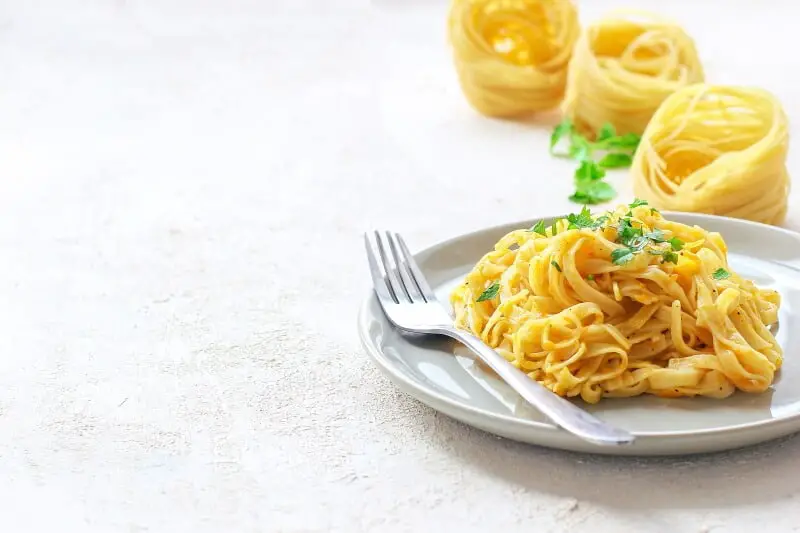 Whether you want to make fresh spaghetti or find a premade stuffed pasta made with homemade dough, you can more than likely find it in the fresh variety.
Related: Guide on how to buy Semolina Flour
Believe it or not, you can even buy fresh pasta made in sheets to create your own stuffed varieties like tortellini, ravioli, manicotti, and so many more.
Some of the other varieties of fresh pasta you'll find in stores and online are:
Fettuccine
Linguini
Ravioli
Gnocchi
These are just some of the most common fresh kinds of pasta to shop for in specialty Italian markets and stores, but you can also find tortellini, fettuccine, and ravioli in most big-chain grocery stores with ease.
How much does it cost to buy fresh pasta?
The price of fresh pasta fluctuates depending on the style and quantity of pasta you're looking for. You can expect to spend anywhere from $3.75 per pound to $13.60 per pound.
Simple pasta made with egg is typically the lower-priced option. However, stuffed varieties that offer more decadent flavors, like lobster ravioli, or three cheese tortellini, for example, are going to cost you far more per pound than something like fresh spaghetti noodles.
Where to buy fresh pasta near you
If you're not picky, you can find fresh pasta options at nearly any major grocery chain.
Stores like Walmart have a small variety of fresh pasta from brands like Barilla.
When you're looking for a more comprehensive selection of fresh pasta to choose from, then you'll want to shop at a specialty marketplace or a grocer like Whole Foods.
Whole Foods carried Severino pasta, located in a deli case at the specialty counter under the Severino banner. There, you can find a variety of pasta, including straight noodles like spaghetti and fettuccine or stuffed options like tortellini and ravioli.
Online shopping is always a viable option these days, no matter what you're in the market for. While there are countless sites online that offer fresh pasta at wholesale prices, these sites are some of our favorites to find a wide variety of fresh pasta.
Tips on finding fresh pasta at the store
Once you know what you're looking for, fresh pasta isn't all that elusive at the grocery store. If you're shopping in a specialty market like Whole Foods, then you'll want to stick to the deli area of the store to search for an Italian case with fresh pasta in abundance.
If you're just testing the waters in your local grocery store, then check near the fresh cheeses and ready-made meals. You can often find a variety of stuffed pasta amongst the cold-cases on the outskirts of your local shop.
You might also find frozen options that are closer to fresh than the dried-aisle pasta to which you've grown accustomed, but this would be a last resort.
Remember that you can always search for your go-to fresh pasta online to find what you need quickly.
Although you won't be able to enjoy the meal the same day you've ordered, you can enjoy the benefit of not having to leave the house to find your favorite dishes to cook for family and friends.
In Conclusion
Now that you have a basic understanding of how you can shop for fresh pasta, you can ditch the dried, cardboard-covered sticks you've been using in your meals and opt for a more wholesome, fresh ingredient when cooking for your loved ones.
Where can I fresh pasta buy?
Fresh pasta is available at many specialty food stores, Italian markets, and gourmet grocery stores. You can also find fresh pasta at some farmers' markets or make it yourself at home.