Affiliate disclosure: Please note that some of the links in this article may be affiliate links. If you click on one of these links and make a purchase, we may receive a small commission at no extra cost to you. This supports our work and allows us to continue providing valuable content. Thank you for your support!
Don't waste your time or your money buying bad produce. Here are some things to look for when buying shallots at the grocery store!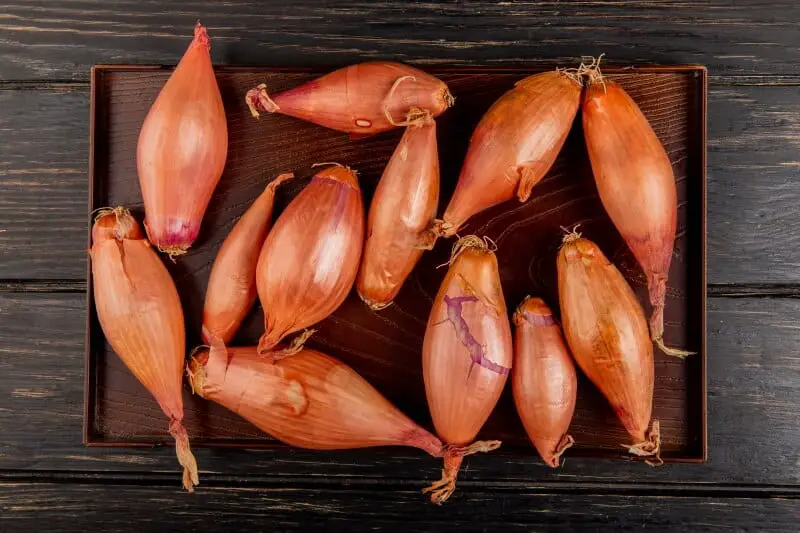 Shallots are a popular type of onion that can add the perfect burst of flavor to any meal. They might seem elusive to find at the grocery store, but this guide will show you how you can easily get your hands on some fresh shallots in no time.
As a relative to onions and garlic, shallots provide delicious flavors and plenty of health benefits whether they are eaten raw or cooked in a meal.
If you are struggling to find these tiny tubers in the grocery store, follow these simple steps as we tell you exactly where you can get ahold of fresh shallots. If you can't, there are also plenty of alternate options available.
No matter what, you'll be able to satisfy your craving for shallots after reading the information here.
Happy grocery hunting!
Where Are Shallots Grown?
In order to find the best shallots near you, it is important to understand where they come from.
Shallots originate in Southeast Asia, but you can find them all over the nation in the United States. Nationally, they are grown in southern Louisiana, and can also be found growing in Florida.
Most shallots that you find in the grocery store will come from one of these two states, unless you are visiting a farmer's market where you may be able to get your hands on local selections.
Buying Shallots – Best Places
It is easy to find fresh and organic shallots for your next meal. If you have access to a grocery store, you will find them in the produce section. They will likely be near the onions and garlic.
If you have trouble finding them at first, you might want to look near the front of the produce section where some items are "featured". Since they are smaller than onions, they are harder to seek out.
Farmer's Market
Even better than a grocery store is a local farmer's market! There, you can visit with locals who grow their own shallots and other delicious produce. You can support your local economy and promote healthy living with shallots that are free of pesticides or other harmful chemicals.
Fresh or Frozen
If you do not have any markets nearby, don't fret! You can still find alternative ways to get shallots so you won't be empty-handed. You can get fresh shallots online or find frozen shallots through online grocery dealers.
How Much Do Shallots Cost?
As a specialty item, shallots are a little more expensive than onions and garlic. But that doesn't mean they are going to empty your wallet. Fresh shallots only cost about $3-$4 per pound at the store.
Your local farmer's market may charge more for shallots depending on the cost of growth. You can usually find dried or frozen shallots at a cheaper price than fresh ones.
Want to get the cheapest shallots? Here are some ways to save big and buy right:
1. Buy in Season
Shallots are planted in the fall and take almost a year to grow, so they are usually fresh in the summer and fall seasons. Buying shallots around this time of year will reduce their price.
2. Buy in Bulk
You can find handfuls of shallots at a good price in most grocery stores. Get them when they're fresh for an even bigger discount!
3. Store Well
Make sure to store any unused shallots in a dark, cool, and dry place. They should remain fresh well into the winter.
Also Read: Essential Tips to Make Onions Last Longer
Buying Shallots of the Best Quality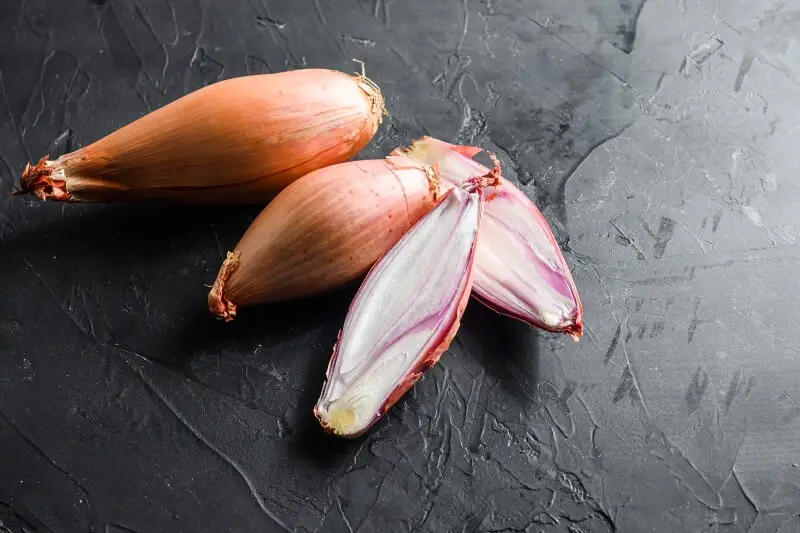 If you are looking for a bushel of fresh shallots to use for your next hearty meal, you want to make sure that you are getting the best bang for your buck.
When thinking about what to look for in the best shallots, you should remember that shallots are like onions. You'll want to choose qualities such as:
Firmness: Shallots that are ripe and ready to go should be very firm to the touch.

Heaviness: The more firm and heavy the shallots are, the more delicious they will be when they appear on your plate.

Smell: Good shallots will smell a lot like their garlic and onion cousins.
Along with these good qualities, there are several things to avoid in shallots that aren't quite ready yet. Here are some red flags:
Sprouting: If a shallot is growing sprouts, it is way beyond its time and it must be thrown away. Eating this can be dangerous.
Dryness: If it isn't plump and heavy, then it might be too dried up to taste.

Softness: Remember that a firm shallot is a ripe shallot. Softness means it is not ready yet – or it's quite expired.
As long as you know what you're looking for, then buying shallots at the grocery store will be a breeze!
Also Read: Is It Costly To Eat Healthfully?
Get the Best Shallots Today
Now that you are aware of what to look for in the best shallots and how to easily find them at your local store, you should be able to enjoy these nutritional tubers in every meal. Much like onions and garlic, shallots can add a burst of flavor to any dish.
Shallots are affordable and available in a variety of different options, both locally and online. Start shopping today and get your hands on shallots while they are in season!
How do I use frozen shallots?
Frozen shallots can be used in the same way as fresh shallots. Simply thaw them out before using them in your recipe.