Tamarind paste is not one of the most common ingredients in many kitchens which is why some may look for help with buying tamarind paste. Some people are completely unfamiliar with it.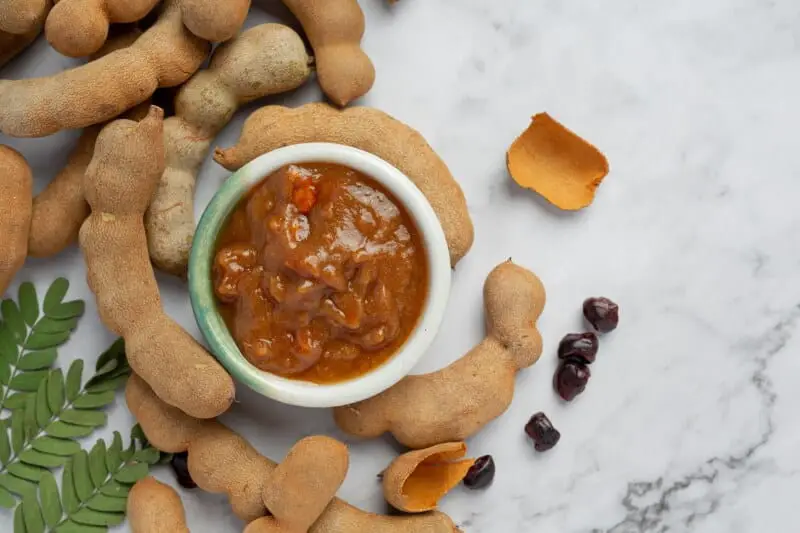 But it's actually a very common ingredient in certain types of cooking. Tamarind paste is not found in some grocers and other retailers so it can be challenging to find. This depends on where you are located and the types of markets you have access to.
Sometimes, finding more exotic ingredients like tamarind paste can require a visit to a specialty market or an online grocery retailer.
Tamarind paste comes from a sticky fruit that grows on the tamarind tree. It's a common ingredient in ethnic cuisines and originates in Africa. It has a sour and citrusy taste and has a texture similar to molasses. Tamarind paste generally comes in a jar but may be found in other types of containers.
Because it's not one of the more common spices, it may not be available at all types of grocery retailers. The following information and tips can help you buy tamarind paste so you can begin using it in some tasty dishes.
How Tamarind Paste is Sold
Most of the time you will find tamarind paste in a glass or plastic jar. This helps keep it fresh on the shelves and makes it easier to use in the kitchen.
Tamarind paste may also come in a squeeze tube or bottle. Some ethnic stores may sell tamarind paste in a plastic bag-like container. Keep in mind that most tamarind pastes on the market are labeled as seedless. If they don't have this label, then the paste probably has the pod seeds in the paste.
In some areas, you may be able to buy tamarind pods which would allow you to make your own tamarind paste at home. This could save money but would require some extra work in the kitchen.
Seasonal or Year-Round Availability?
Tamarind paste is not a seasonal ingredient like many other herbs and seasonings. Because it's widely grown in Africa, Asia, and Mexico, it's actually readily available year-round. The fact that the tamarind paste is made in a way that gives it a long shelf life means that you don't have to worry about seasonal availability.
Where to Buy Tamarind Paste
Large supermarkets and grocery stores are very likely to carry several different brands of tamarind paste. Smaller grocers who don't stock many ethnic items may not have any available.
It's frequently found in Indian and Asian markets. If you live in an area without access to ethnic markets and stores with large ethnic food sections, you may have to look online to purchase tamarind paste.
Purchasing online can help you sort through the different options available so you can get the best quality product based on customer reviews and price. Tamarind paste will likely be with the spices and seasonings in most grocery stores.
Ingredients
Traditionally, tamarind paste has very simple ingredients. It's flavorful on its own which is why it usually doesn't have a lot of additives. The purest tamarind pastes will have only one ingredient: extract of tamarind.
There may be some others available with additives to either keep them shelf-stable or to add extra flavor. Some tamarind paste may be sold as "organic" while others will be conventional. Choosing between the 2 depends on your personal preferences.
Cost of Tamarind Paste
Tamarind paste comes concentrated which is why it may seem expensive at first glance. But one container can last a long time. And it has a longer shelf life when stored properly when compared to other similar types of seasonings.
Just like any spice or seasoning, the cost of tamarind paste depends on where you buy it. It's most often sold by the ounce. It may be more affordable in ethnic markets but the choices of package size will likely be limited.
If you shop online, you can compare prices to get the best cost per ounce. The price per ounce can vary from under $1 up to over $2 per ounce.
Challenges in Finding and Buying Tamarind Paste
Because tamarind paste is almost always imported, the language on the container may not be in English. This can make it difficult to decide which is the best option. Most ethnic markets can likely answer any questions you have about the product as they tend to stock products they're familiar with and know a lot about.
If you're shopping online, being able to read to product description can also be challenging if you don't know the language the label is written in. Many online retailers will provide you with a translation of the product information.
Tamarind paste has a unique flavor that makes it a worthwhile ingredient to have in any pantry. It has a texture like molasses and is very concentrated so you don't need to use it a lot in your dishes. Tamarind paste is used in African, Indian, Asian, and other types of ethnic cuisine. It's available in most large supermarkets, ethnic grocery stores, and online grocery retailers.
Where can I buy tamarind paste?
Tamarind paste is available at many grocery stores and specialty food stores. It can also be purchased online through retailers like Amazon.