Pecans are a delightful addition to any diet. Determine the secrets of how to select the best pecans on the market, right here. After all, when it comes down to buying pecans for your holiday pies, cookies, and cakes, only the best will do.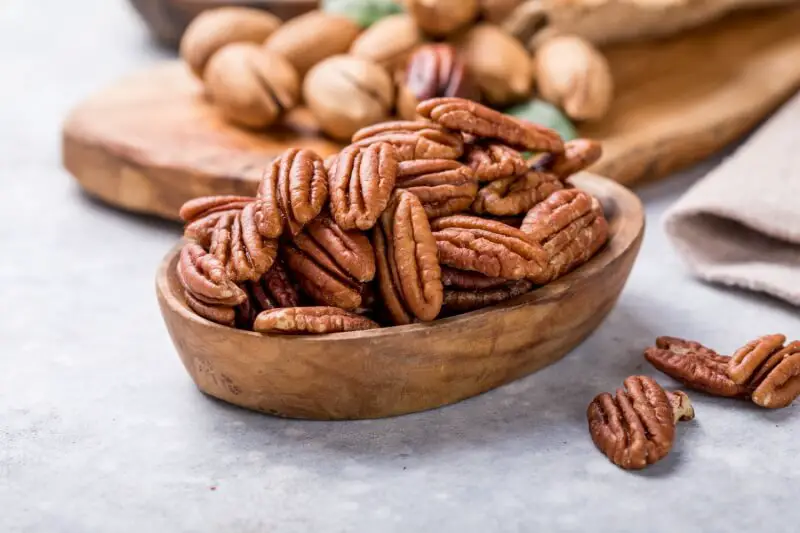 This versatile North American nut is the crowning touch of many dishes. Though they are known for playing a large part in many holiday favorites such as pecan pie and fruit cake, they can also be found in spicy, savory supper dishes. As such, it's crucial to know how to pick a nut that is fresh, flavorful, and has an excellent texture.
High in antioxidants, vitamins, and minerals, pecans have become known as a healthy snack to munch on from time to time. However, it's wise to remember that though they are rich in health benefits, they do have a high-calorie count.
Where Can I Buy Pecans?
Pecans are available all throughout the year. When it comes time to buy pecans, know that you can find them in most local grocery stores. You can also buy pecans online, in many health food stores and farmers' markets. The best time of the year to buy the freshest pecans is during the holiday season: October through December. This is the only time you can buy pecans in-shell.
When buying pecans online, you have added advantages. These advantages include the ability to pick and choose which pecan variety to buy. Many pecan farmers specialize in one variety or several. Online shops also provide you with a more diverse selection of pecan products than the local grocery store. Examples of where you can buy pecans online include:
Visit this link for a comprehensive list of pecan growers in your state. Many pecan growers also sell to customers outright, which is a great way to ensure you get the best quality at fair prices.
Related: Guide To Buy Brazil Nuts – All Questions Answered
Finally, whether you buy packaged pecans online or in the grocery store, check the freshness dates. The packaged nuts at the grocer will have the freshness date on the label. As for buying pecans online, you'd have to visit their webpage and contact the seller.
Where Can I Find Pecans in the Grocery Store?
You'll be happy to know that pecans are quite an easy find in the grocery store. For instance, you can find halved, chopped, or ground pecans in the baking aisle. If looking for pecans to snack on, you'll find plenty in the chips and nut aisle, and last but not least, they can be found in the produce section of your store when in season. In short, there's no time of the year you won't be able to buy pecans.
How to Select the Best Pecans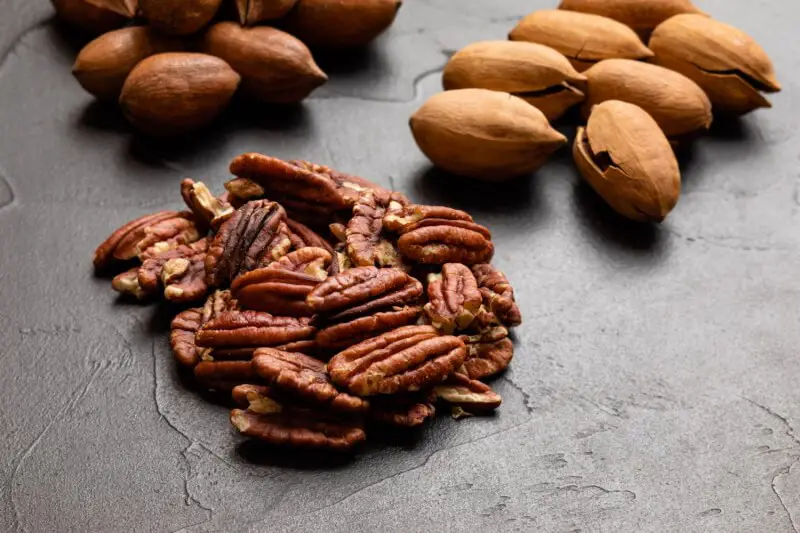 Texas A & M professor, horticulturist, and master pecan expert, Larry Stein states that when choosing pecans, select those which are uniform in size, color, and shape with a nice sheen. The nut meat or kernel should be plump with an evenly distributed, light brown color.
Pecan kernels with dark spots should be avoided as they'll give the pecan a bitter taste. When held, a good-quality pecan will feel solid, not hollow. When you shake the nut, it should not rattle. If it does, it is of poor quality. Also, please avoid pecans with fuzzy and/or shriveled kernels as this indicates mold, and moldy pecans can cause a variety of health issues.
Also Read: 5 Yummy Nuts that Jazz Up Italian Dishes
When determining which packaged pecans are the best, you'll have to keep a few items in mind. First, you'll want to avoid those pecans that contain pieces of shell in their grooves. When you look at a pecan kernel, the grooves should be totally free from any shell bits. Not only are they unattractive and hard to chew, but they are also quite bitter to taste.
In fact, many people actually wash off their pecan kernels to make sure that any hidden bits and pieces are eliminated before eating or cooking. By washing your pecans, you can be sure that no tiny pieces are left hiding in the kernel.
Related: 8 Common Shelled Nuts for Sale at the Store
The best pecans are those that sound and feel crisp when you snap them. A pecan kernel that feels soft to the touch has absorbed way too much moisture. Moisture will not only affect the feel of the pecan when eaten but affect the taste as well. To give you an additional helping hand, the USDA has a handy guide that relates their standards when it comes to choosing the best, shelled pecans. Remember that nuts like pecans are considered vectors for salmonella which makes it much more important to check the quality of the pecans before you buy.
How are Pecans Packaged?
When pecan season rolls around, you can buy pecans in the shell. Otherwise, you can purchase them already shelled in packages. When packaged, you'll find that pecans are either chopped, quartered, diced, or ground. The type of cut you select will depend on the recipe you're using. Another way to purchase them is cracked.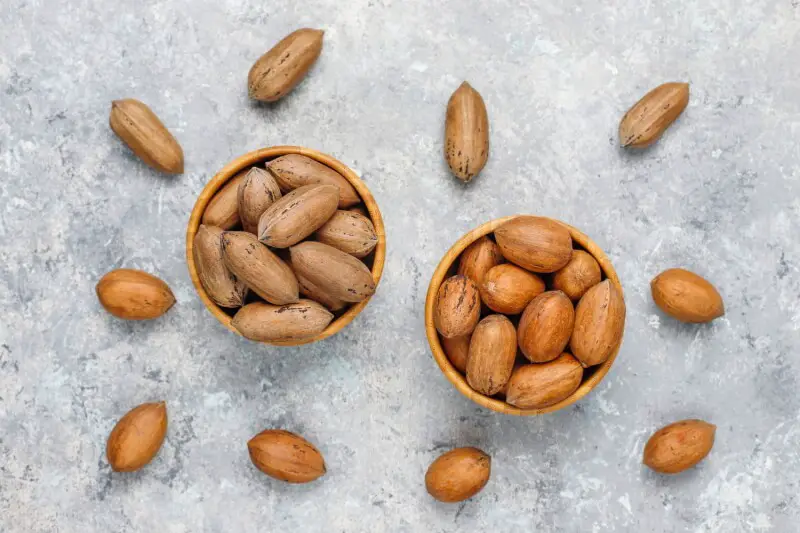 Here, each pecan shell has been cracked to make it easier for you to use. The benefit of purchasing pre-packaged pecans is that you can see what you're getting. In summary, you can buy pecans in the following forms:
Shelled
In-shell
Halved
Chopped
Ground
Raw
Dry roasted
Salted/unsalted
Glazed
Chocolate covered
Flavored
How Much Can You Expect to Pay for Pecans?
According to the Pecan Report, pecan prices are holding strong. However, due to the current state of the economy, there are supply chain issues as well as a dwindling supply of "on-hand" pecans. As demand for this delicious nut increases domestically as well as internationally, prices have been seen to increase slightly.
In general, the prices of pecans will vary depending on the type you purchase.
For example, a pound of organic raw pecans can run you close to $20.00 depending on the seller, whereas a 32-ounce bag of non-organic Great Value pecan halves from Walmart will run you close to $20.00.
A 7.5-ounce can of Planters roasted pecans can cost up to $6.58, whereas a 7-ounce bag of Great Value roasted pecans will cost only $4.58.
By taking a look at Walmart's pecan prices, you can get a good idea of what to expect to pay. However, know that gourmet nut shops will generally charge higher prices.
Easy Allergy Tests to Try Before You Buy Pecans
Before you set out to buy pecans you may be concerned about allergens. In fact, many people who have family members who suffer from allergies have this concern. If this describes you, know that you can purchase a pecan nut allergy kit for a very nominal price at Pearson Farms. Food allergies are prevalent in society with nuts being one of the top culprits. By testing yourself or family members before you shop and buy pecans, you're doing yourself a great favor.
Final Thoughts
There you have it, a concise introduction to buying pecans. This healthy and tasty nut has a rich history and demand for it is growing worldwide. By knowing the proper methods of choosing high-quality pecans, you'll be certain to craft the best recipes and snacks.
Keep in mind that if you can't buy pecans locally, you can contact pecan growers' associations to find stores near you that do sell pecans, as well as buy them online from stores like Whole Foods, Trader Joe's, or Amazon.
What are some things to look for when buy pecans online?
When buying pecans online, it's important to look for reputable sellers with good reviews. Check the shipping and delivery options, as well as the return policy in case you're not satisfied with the product. Look for pecans that are fresh, have a good aroma, and are not discolored or shriveled.