New to buying banana leaves? It's easy when you know where to look and how to pick the best. Learn how to find the perfect banana leaves year-round. For starters, banana leaves grow in tropical and warm climates. It's where they're the freshest. Buying locally allows you to inspect the leaves before you buy them. If you live in another part of the world where they're not native, you can still buy perfect banana leaves. Here's how!

Benefits of Banana Leaves
Banana leaves are a versatile and widely used material in many cultures around the world. They have been used for thousands of years in traditional medicine, cooking, and even religious ceremonies. Here are some benefits of banana leaves and how they can be used in our daily life.
1. Nutritious and Edible
Banana leaves are an excellent source of nutrition and can be eaten cooked or raw. They are rich in vitamins A and C, as well as calcium and iron. In many cultures, banana leaves are used as a wrapper for steaming or grilling food, which adds flavor and nutrition to the dish.
2. Natural Moisture Barrier
Banana leaves have a waxy coating that acts as a natural moisture barrier. This makes them ideal for wrapping food to keep it fresh and moist, especially in tropical climates where food can spoil quickly. Banana leaves are often used to wrap food such as tamales, rice cakes, and other traditional dishes.
3. Eco-Friendly Alternative to Plastic
Banana leaves are a sustainable and eco-friendly alternative to plastic packaging. They are biodegradable, and compostable, and do not release harmful chemicals into the environment. Banana leaves can be used as food wrappers, plates, and even as bags to carry groceries.
4. Medicinal Properties
Banana leaves have been used for centuries in traditional medicine for their medicinal properties. They contain polyphenols and other compounds that have anti-inflammatory and antioxidant effects. In many cultures, banana leaves are used to treat skin conditions, and wounds, and even as a natural remedy for fever and cough.
5. Decoration and Cultural Significance
Banana leaves are often used for decoration in many cultures. They are used to create beautiful and intricate designs for festivals, weddings, and other celebrations. In some cultures, banana leaves are also considered sacred and are used in religious ceremonies and rituals.
Buying Guide – Banana Leaves at the Store
Where to buy banana leaves?
Local Grocers Grocery stores may import banana leaves, depending on the demand. You can learn if any local grocers carry them with an online search. Type in the keywords "banana leaves" (the name of your city and state).
Where to find banana leaves in the grocery store?
The best place to look is in the produce department. Banana leaves are a specialty item in areas where they don't grow. Look at the places where they keep Asian, Mexican, Latin, and South American produce.
Look in the frozen produce section where grocers keep frozen Asian specialty foods. If you don't see them immediately, ask a produce department clerk if they're in stock. Some grocers will order them if there's a demand.
Online Vendors
Ordering them online is the next best way to get quality banana leaves. Some vendors have a solid reputation for freshness and fast delivery. It's wise to browse reviews of the vendors before choosing. Check out a few of the best places to find banana leaves online.
• Walmart online (https://www.walmart.com/ip/Goya-Select-Frozen-Banana-Leaves-16-oz-Bag/47064322)
• Safeway online (https://www.safeway.com/shop/product-details.960089279.html)
• Florida Coconuts (h)ttps://store.florida-coconuts.com/banana-leaves-3-4-feet-length.html)
• Instacart (https://www.instacart.com/company/ideas/banana-leaves-all-you-need-to-know/)
• Amazon (https://www.amazon.com/pound-Fresh-Banana-leaves-cooking/dp/B0786P1NT5)
These are a few online resources to find quality banana leaves. There are dozens more.
Where are Banana Leaves Sold?
You can find banana leaves in refrigerated produce departments. They're also in the frozen goods section. Fresh leaves keep freshness longer when wrapped in plastic and refrigerated. They last up to a week before deterioration starts. They're usually available in sealed packages with plastic film on the outside.
What to look for when you are buying banana leaves
•Freshness
Fresh banana leaves have a shelf life of a week to several weeks, depending on the packaging. The key to assessing freshness is to choose leaves with no signs of browning, tears, or holes. They should be glossy and feel pliable.
•Handling by the Grocer
It would be best to buy banana leaves from a refrigerated part of the produce department. Check the freshness dates when buying frozen banana leaves from a grocer. Frozen leaves have a shelf life of 6 months in the freezer before they start to lose quality.
Banana leaves origin
Banana leaves grow wild and on cultivated farms. They're native to Mexico, South and Central America, Southeast Asia, and the Caribbean. They grow on large stocks, and are harvested from the plants, processed, packaged, and shipped to grocers.
How much do banana leaves cost?
Fresh banana leaves cost between $2.49 to $30 per pound, depending on the brand and the vendor. The prices vary. Purchasing them in bulk can save money. SoCal Produce offers them at $15 per pound for fresh leaves. Gourmet banana leaves for cooking cost $93 for 10 -1 lb leaves from Amazon vendors for the frozen variety. The cost breakdown is $0.59 per ounce.
Alternatives
You can use banana leaves to wrap around foods for cooking, baking, and freezing them. They also make attractive plates. The best alternative to banana leaves is aluminum foil. As an alternative, the foil also seals in moisture with a waterproof barrier for cooking.
Aluminum foil is easier to find, but it lacks the same advantages. Banana leaves put nutritional antioxidants into foods with better moisture retention.
Conclusion
You can buy banana leaves all year round. Some grocers import them from different countries and sell them as fresh produce. Some grocers sell them in the frozen foods section. You can learn more about local vendors from an online search. If unavailable at your local grocer, dozens of online vendors sell banana leaves. The prices range from reasonable to expensive. You benefit when you compare prices among suppliers when shopping for banana leaves.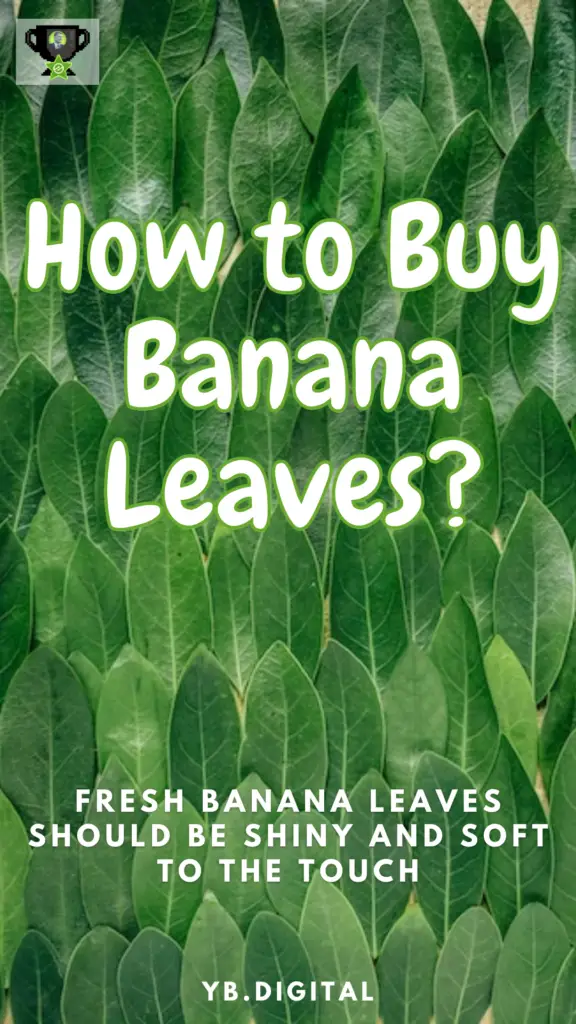 Where to buy fresh banana leaves?
Fresh banana leaves can be purchased at many Asian grocery stores and specialty food markets. They may also be available at farmers' markets or through online retailers.