Cinnamon is very healthy for you. Learning how to buy them at your grocery store is essential to get the best of the best cinnamon sticks
They are a healthy spice to add to your food
When you go shopping, you should keep an eye out for cinnamon sticks. This spice makes any food dish sparkle with its tantalizing aroma and flavor. They are not hard to find as you can find them in cans, packets, and so on.
The key is to buy true cinnamon sticks as they are the healthiest and safest to use.
Benefits of Cinnamon Sticks
Cinnamon sticks are a spice obtained from the inner bark of the Cinnamomum tree species. They are widely used in various culinary applications, including baking, cooking, and brewing tea. Besides their delicious flavor, cinnamon sticks also offer several health benefits.
1. Anti-Inflammatory Properties
Cinnamon sticks contain compounds with anti-inflammatory properties that help reduce swelling, inflammation, and pain in the body. Studies have shown that the anti-inflammatory properties of cinnamon can help alleviate symptoms of arthritis, inflammatory bowel disease, and other inflammatory conditions.
2. Antioxidant Properties
Cinnamon sticks are also rich in antioxidants, which protect the body from damage caused by free radicals. Free radicals are unstable molecules that can damage cells and contribute to aging and chronic diseases. The antioxidants in cinnamon help neutralize free radicals, reducing the risk of chronic diseases such as cancer, heart disease, and Alzheimer's disease.
3. Regulate Blood Sugar
Cinnamon sticks can also help regulate blood sugar levels in the body. Cinnamon contains compounds that improve insulin sensitivity, allowing the body to use insulin more effectively. This can help reduce blood sugar levels, making cinnamon a valuable spice for people with diabetes.
4. Reduce the Risk of Heart Disease
Cinnamon sticks have been shown to reduce several risk factors for heart disease, including high blood pressure, high cholesterol, and high triglyceride levels. These risk factors can contribute to the development of heart disease, which is the leading cause of death worldwide. By incorporating cinnamon into your diet, you can help reduce your risk of developing heart disease.
5. Improve Brain Function
Cinnamon sticks have been shown to improve cognitive function and memory. Studies have shown that cinnamon can enhance brain function by increasing blood flow to the brain, improving cognitive processing, and enhancing memory and attention.
6. Anti-Bacterial and Anti-Fungal Properties
Cinnamon sticks also have anti-bacterial and anti-fungal properties, which make them effective in fighting infections. The compounds in cinnamon can help kill bacteria and fungi, making it a natural remedy for a variety of infections, including oral thrush, candida, and urinary tract infections.
Where to buy cinnamon sticks?
All the big box grocery stores have this item. It is a popular spice that has a variety of uses. You can find them at Walmart, Target, and many vendors on Amazon.
But if you are not a fan of those three outlets, you can find cinnamon sticks in just about any grocery in town including health food stores, farmer's markets, and your traditional supermarket.
Plus, the bulk food stores have a large supply of this product so you do not have to go without it. Just head for the spice aisle to find what is on sale today at your favorite supermarket.
Where can I find cinnamon sticks in the grocery store?
No matter which store you go to, whether it is Walmart, Fred Meyers, Safeway, and so on, you will find those cinnamon sticks in the spice aisle. After all, cinnamon is a spice and a family favorite one at that.
Also, you may find them in the bulk food section of different grocers specializing in bulk food sales. If you shop online, you will find them on a variety of Amazon web pages and other online stores.
Just use cinnamon sticks as your search guide and your computer will provide a myriad of results for you to 'stroll' through.
What to look for when you are buying cinnamon sticks?
True cinnamon comes from Sri Lanka and is often called Ceylon Cinnamon. It has a more paper-like feel to its texture and you should be able to break it down with your fingers quite easily. Its subtle flavor sets it apart from other cinnamon brands.
The Korintje Cassia Cinnamon sticks are grown in Indonesia, and it has a longer stem to them and can be used as a straw. The flavor of this version has been described as smooth
Saigon Cassia cinnamon is going to be strong and spicy. It has a robust aroma and flavor to it. But the thing about cinnamon, any variety, is that it never goes bad. When it is old, it just loses its flavor.
Bulk cinnamon sticks
You do not have to be stuck with those small cans or pouches when you want to use cinnamon sticks in your meal preparation. There are many online bulk food stores that will sell cinnamon sticks with a nice sweet and spicy aroma in the 1 or 5-pound bag.
The bulk variety is of the same quality as those you find in smaller amounts in your local grocer. There are plenty of online bulk outlets that allow you to do comparison shopping for the right price.
Amazon says it has bulk amounts and you can find different vendors selling them in 1 and 2 1/2 pound packages mixed in with those vendors who sell smaller amounts.
How much does cinnamon sticks cost?
Amazon is a bit tricky but you can find some on sale for roughly $10 for 8 ounces, and $13 for 4 ounces but these are 6 inches long each, and other prices. The bulk prices are not advertised.
Walmart has them online at $9 for 9 ounces and McCormick's sells theirs for $7.49 for 3/4 of an ounce. The bulk prices are a little bit better as one outlet sells them for $10,63 a pound and $4.25 for a 1/4 pound.
A 5-pound back at Bulk Foods is selling for $56 approx. Do some comparison shopping to find the best price at your local grocers.
How much cinnamon is in a stick?
There is about 1/2 to 1 tsp. of ground cinnamon in a stick of cinnamon approx., This will depend on the size of the cinnamon stick. Some are longer than others so you may get more cinnamon from a stick than from a teaspoon.
Alternative ways to buy cinnamon
When you go down the spice aisle, you will find that cinnamon is sold in two formats. There is the stick version and there is the ground version. The ground may be better for you as it does not need grinding and is easier to measure.
Some final words
The only thing to worry about with cinnamon is getting too much. That is because of the coumarin content. The Ceylon cinnamon is more expensive than Cassia but it has less coumarin content than the Cassia variety.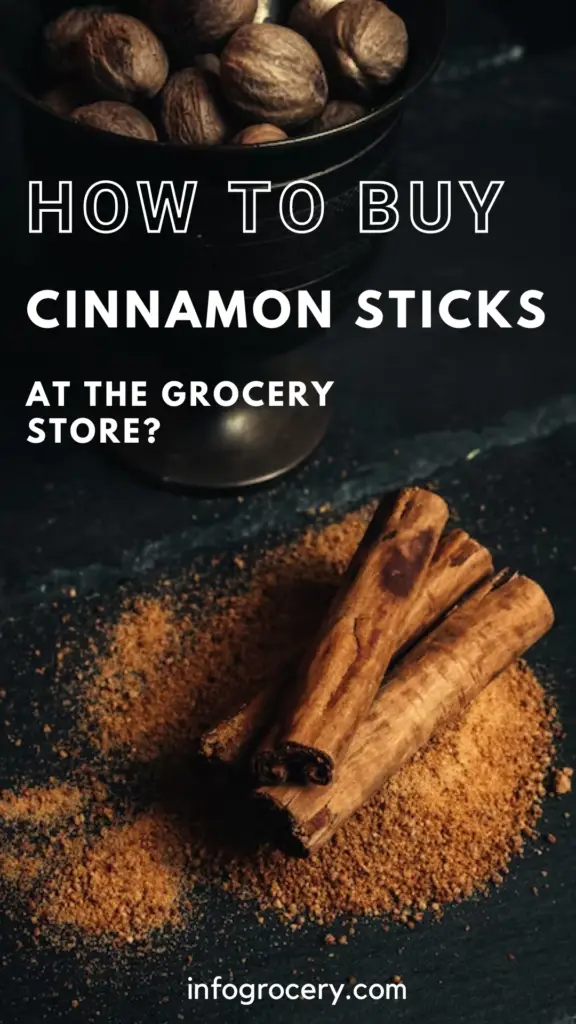 Where can I buy cinnamon sticks at Walmart?
Walmart usually stocks cinnamon sticks in the spice section of their stores. You can find them in the baking aisle or the international foods section.