Learn how to buy the best cranberries! You can get fresh, gorgeous cranberries at grocery stores, local markets, and online.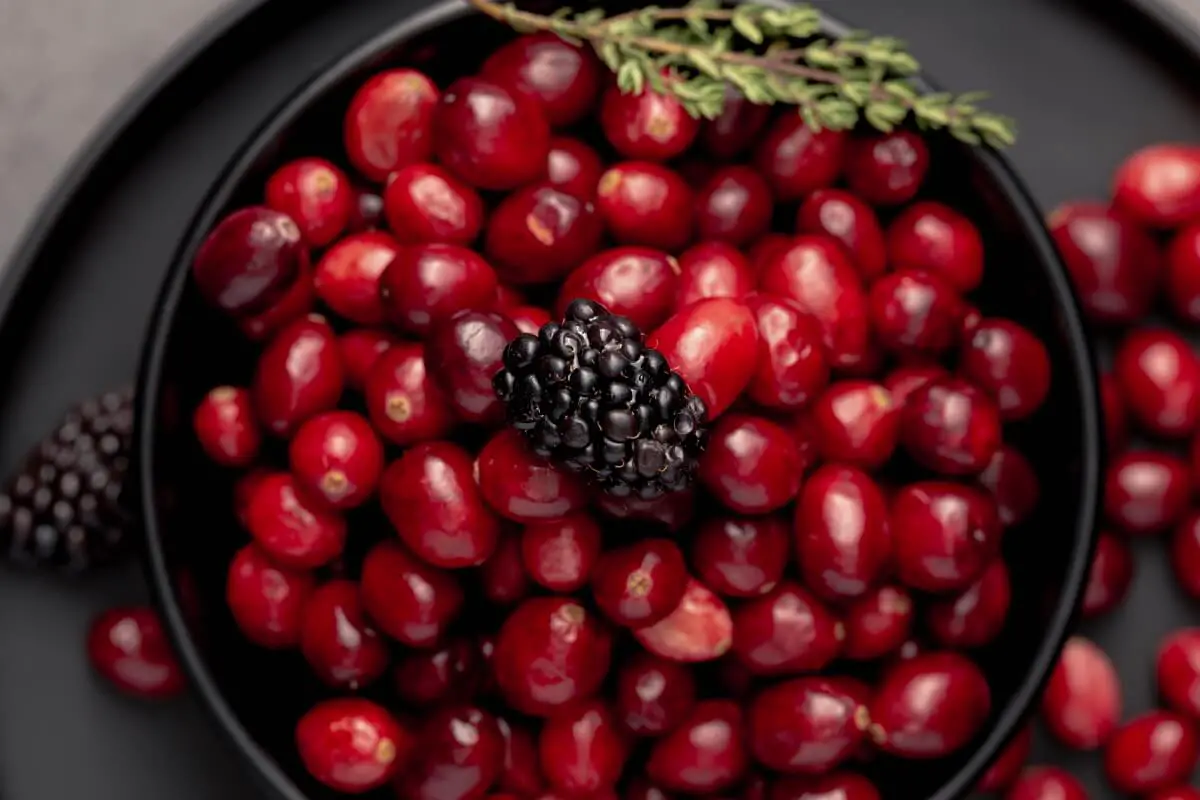 How do you find fresh, gorgeous cranberries that resemble handfuls of ruby jewels? When you're creating cranberry concoctions, only the best cranberries will do. However, you may often feel stuck with whatever you can find at your local grocery store due to the fact that cranberries aren't always as easily found as other fruits.
Ready to get something tart in your cart? Here's a quick guide for how to buy cranberries fresh.
Where Cranberries Come From & Seasonality
Have you ever wondered where cranberries come from? This is a helpful tidbit to know about when sourcing good cranberries.
It's a fruit particularly loved among Americans because they are one of the only fruits that are actually native to the land:
In the United States, cranberries are cultivated throughout the northern part of the country.
On the East Coast, commercial cranberry bogs pepper parts of Massachusetts and New Jersey.
On the West Coast, Oregon and Washington are major cranberry producers.
A good number of cranberries also come from Wisconsin and Michigan. Canada is also a major producer of cranberries.
The reason why cranberries are grown in such a limited number of regions is that this fruit requires very special conditions to flourish. They grow in bogs, and as a result, dry areas can't produce it.
In addition to freshwater, cranberries also require sandy soil and cooler temperatures. Most people assume that cranberries grow underwater. In reality, cranberry bogs are flooded a few times per year in anticipation of the spring bloom.
The harvest season for cranberries lasts from September through November. You don't need to be an expert in cranberry growing to enjoy these tart treasures. Let's cover more about how to shop for cranberries.
Things to Look for When You Buy Cranberries
You'll need to use your eyes and hands when picking out a bag of cranberries. The fact that most cranberries are sold in 12-ounce bags can make it difficult to get a good look at each individual specimen. When purchasing from a farmers' market, you'll be able to be a little choosier.
When approaching cranberries at the grocery store, look for a bag that appears to contain very firm berries. Firmer is fresher. You also want berries that are as plump as possible. If possible, hold your bag of berries up to the light to check for any blemishes.
A darker color is a sign that berries are mature, late-season berries. However, that doesn't necessarily mean that darker cranberries are better. A darker berry will generally have more juice. You may appreciate this if you're looking for volume.
However, lighter berries are sometimes preferred by people making cranberry sauce because they contain higher amounts of pectin. If you bake often, you may know that pectin allows your sauce to get thicker.
What to Avoid When You Buy Cranberries
There are some warning signs when cranberries aren't fresh. Cranberries that appear shriveled or deflated have probably been lingering. If berries seem soft to the touch, they may be bad. You should also do a spot check for any signs of slippery berries because this is a sign of mold.
How Much Do Cranberries Cost by the Pound?
Cranberry prices actually shift from year to year based on factors related to crop yield and demand. In 2017, the average price for a 100-pound barrel of fresh cranberries was $29.10. Prices stay somewhere in this range each year. It works out to just under $3.50 per pound of cranberries.
How to Get the Best Price on Cranberries
You won't have much room for bargain shopping if you'll only be picking up mainstream cranberries from your local grocery store. However, there are ways to get better cranberry prices.
If you're looking for a big order of cranberries that you intend to freeze or store, consider going straight to the source. You can often find bulk cranberry suppliers located right near the bogs in Massachusetts, Wisconsin, Washington, and other growing states.
Some of the reputable established bulk cranberry suppliers out there are Cape Cod Select, Wisconsin Cranberries, Fresh Meadows Farm, and P.J. Cranberries.
Some cranberry suppliers ship directly when you order online. If you're really dedicated, you can often visit a cranberry farm located in a producing state to purchase cranberries in person.
If you're in an area where cranberries are grown, reach out to the organizations that run local farmers' markets. See if there will be opportunities to buy fresh cranberries by the pound at local stalls. Fresh cranberries are usually sold from the end of September through Christmas.
What If You Can't Find Fresh Cranberries?
Nothing beats fresh cranberries! However, there are plenty of ways to get your hands on cranberries even though fresh ones are only sold during a limited window throughout the fall and early part of winter.
Frozen cranberries are available at nearly every grocery store around the year. You can also find dried cranberries next to the nuts and raisins at most grocery stores every day of the year.
Is Frozen or Dried Better?
If you're looking for the option that retains more of the nutritional value of fresh cranberries, opt for frozen. They are much closer to fresh cranberries than dried ones because they retain water content. Additionally, frozen generally perform like fresh cranberries when thawed or cooked.
Dried cranberries are often prepared using a process that soaks them in a sugar solution. As a result, they are higher in sugar and calories than fresh or frozen cranberries. They also don't have the same water content because they are dehydrated. However, dried cranberries still contain tons of antioxidants and vitamins that are great for you!
The Bottom Line: Get Your Fresh Cranberries While You Can
The short selling window for fresh cranberries means you need to leap at the opportunity to get them whenever they're in stock. That means loading up to make cranberry mixed drinks, cranberry sauce and cranberry desserts!
One last tip is that you may see cranberries discounted at your local grocery store after Jan. 1 because cranberry season is technically over once people are done with holiday baking. This is a good time to scoop up cranberries for storage or preservation. However, don't expect these steeply discounted cranberries to be in prime condition!
Why should I fresh cranberries buy instead of dried?
Fresh cranberries are a great source of vitamins and antioxidants, and they have a unique tart taste that can be used in a variety of recipes. Dried cranberries are often sweetened and may not have the same nutritional benefits as fresh cranberries.