Passion fruit is a tropical fruit that comes from a passion flower. This fruit is very common in South America, Australia, and sub-tropical climate regions such as California and Florida. Passion fruit usually has a tough outer rind and a tasty, seed-filled center. While most people dislike the fruit's gelatinous-good insides, the passion fruit taste is refreshing and amazing. Here, we will show you how to buy passion fruit.

Benefits of Passion Fruit
Passion fruit, also known as "granadilla," is a tropical fruit that is popular for its unique flavor and numerous health benefits. It is a good source of essential nutrients, including fiber, vitamin C, and antioxidants. In this article, we will explore some of the benefits of passion fruit.
1. Rich in antioxidants
Passion fruit is rich in antioxidants such as vitamin C, flavonoids, and carotenoids, which help protect the body from free radical damage. Free radicals are unstable molecules that can damage cells, leading to chronic diseases such as cancer and heart disease. Antioxidants help neutralize these free radicals, reducing the risk of such diseases.
2. May improve digestion
Passion fruit contains high levels of fiber, which can improve digestion and prevent constipation. The fiber in passion fruit also helps regulate blood sugar levels, reducing the risk of diabetes. Additionally, passion fruit is rich in enzymes that aid in the digestion of proteins and fats.
3. May reduce inflammation
Passion fruit contains several anti-inflammatory compounds that can help reduce inflammation in the body. Chronic inflammation is linked to many diseases, including arthritis, heart disease, and cancer. By reducing inflammation, passion fruit may help prevent these diseases.
4. May boost the immune system
Passion fruit is an excellent source of vitamin C, which is essential for a healthy immune system. Vitamin C helps stimulate the production of white blood cells, which fight off infections and diseases. Additionally, passion fruit contains other immune-boosting compounds such as carotenoids and flavonoids.
5. May improve sleep
Passion fruit contains alkaloids that have been shown to have a sedative effect, making it an excellent natural sleep aid. Drinking passion fruit tea before bed may help improve the quality of sleep and reduce insomnia.
6. May improve skin health
Passion fruit contains vitamin A, which is essential for healthy skin. Vitamin A helps promote the growth of new skin cells and can improve skin tone and texture. Additionally, passion fruit contains antioxidants that protect the skin from free radical damage, reducing the risk of wrinkles and other signs of aging.
What Does Passion Fruit Look Like?
The most common type of passion fruit is the purple and small round ones or the yellow and slightly large type. The passion fruit has a thick waxy rind that usually wrinkles as the fruit ripens. Inside the fruit is pulp, a blend of small, crunchy seeds and orange-colored juice. Passion fruit is known for its tart but sweet flavor that immediately overwhelms your taste buds. Your eating experience is made more enjoyable by the fruit's fragrant aroma. Passion fruit grows from the passion fruit vine climbing with gorgeous flowers. This fruit is 3 inches long and round. It has a waxy, thick rind that wrinkles when the fruit is opened. Today, passion fruit is grown in; South Africa, Israel, Hawaii, India, California, New Zealand, and Florida.

Types of Passion Fruit
There are many different types of passion fruit within the passiflora flower species. While they all differ in appearance, they all have tart, sweet, juicy yellow insides filled with small, crunchy, black seeds with hard outer shells. There are two distinct color variations of the passion fruit, they include:
· Yellow: 
It is still unknown where this type originated from, but it is believed to have been first grown in tropical climate areas like Hawaii. It is slightly bigger than the purple variety and less flavorful.
· Purple: 
This variety originated from the Northern Argentina and Southern Brazil region. It has a rich sweet flavor and is less acidic than the yellow variant. It is also a juicer on the insides.
Other passion fruit variants include:
· Maracuya: 
This variety is bright yellow and the biggest of all passion fruit varieties. It is commonly grown in Brazil.
· Granadilla: 
This variety is also yellow but sweeter and more delicious than other varieties. It is commonly grown in Peru.
Where Can I Find Passion Fruit?
You can get a passion fruit in your local supermarket, or if you are keen on the specialty, you can visit Caribbean and Latin markets. Fresh passion fruit is often difficult to find in supermarkets, but you can find them in international grocery stores, especially Asian and Mexican fruit markets. If you want the passion fruit free, you can get it frozen in most supermarkets or the freezer section in specialty markets.
When is Passion Fruit in Season?
The passion fruit is usually available all year round, but since it is a tropical fruit, they grow more abundantly in the warmer months. If your passion fruit is harvested when unripe, you can leave it for about 3-5 days to ripen. The most advisable way of ensuring your ripened passion fruit lasts for a long is to store them in the crisper drawer of your refrigerator. This will help your fruit last for about seven days. Passion fruit is often classified as exotic, but its wide popularity has made it sold in different markets worldwide.
How Do I Tell That a Passion Fruit is Ripe?
Well-ripe passion fruit is often wrinkly and showcases a dark yellow-red or dark purple rind. Unripe passion fruits are green in color. Another vital feature is the weight of the fruit, the heavier passion fruits are the best as they have plenty of moisture inside, and the light ones indicate dryness. It would be best to clear away from passion fruits with discoloration or bruising. The skins of the passion fruit should not be consumed, which is an essential feature when picking the best kinds of fruit for juicing or eating.
How Do I Prepare Passion Fruit?
Eating a passion fruit is very straightforward. The first step is thoroughly washing and drying the skin to remove preservatives or pesticides. Then, cut the fruit in half while scooping out the pulp and consuming it. Some prefer sprinkling a little sugar over their fruit to quench the sourness, while others love its sourness. It is often advisable to avoid scraping the white part of the fruit's insides which is usually bitter. If you plan on juicing, it would be best to remove the seeds by pressing the pulp through a sieve, separating the liquid pulp from the seeds.
Are Passion Fruits Nutritious?
Passion fruits are often associated with several nutritional benefits. They are rich in antioxidants and are the perfect source of nutrients, including; vitamin C, iron, protein, fiber, vitamin A. magnesium, folate, potassium, and phosphorus. They also help reduce cardiovascular risk factors such as fasting blood glucose and systolic blood pressure.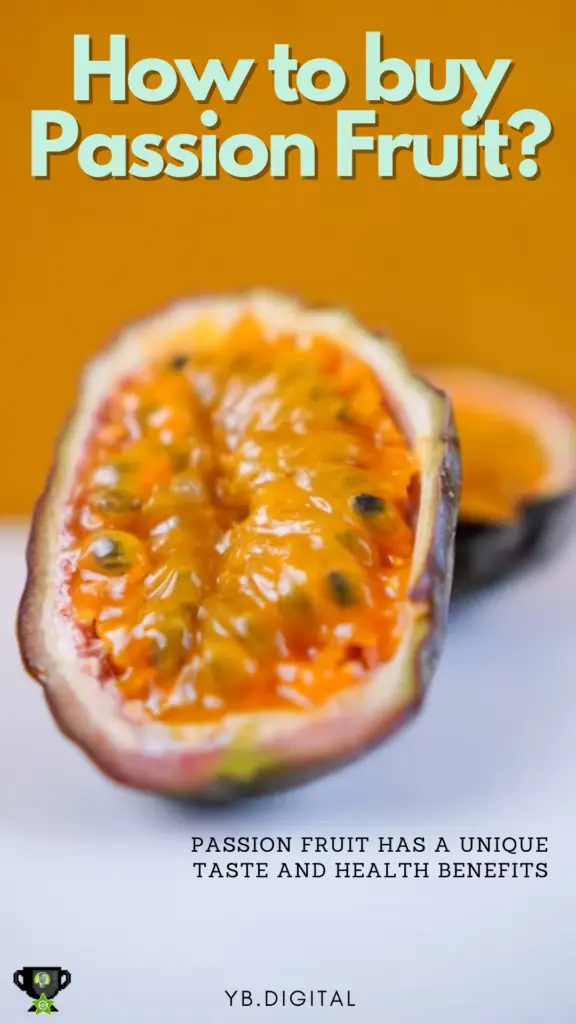 Can I buy passion fruit online?
Yes, passion fruit can be purchased online from various retailers. However, make sure to check the shipping and handling policies of the retailer before making a purchase.