Have you ever eaten lentils, perhaps at an ethnic restaurant? If so, you can testify to their hearty taste and texture.
If you've never sampled them, we're eager to help you! After reading this article, you'll know the stores where to buy, where are lentils in the grocery store, average prices, and other helpful tips.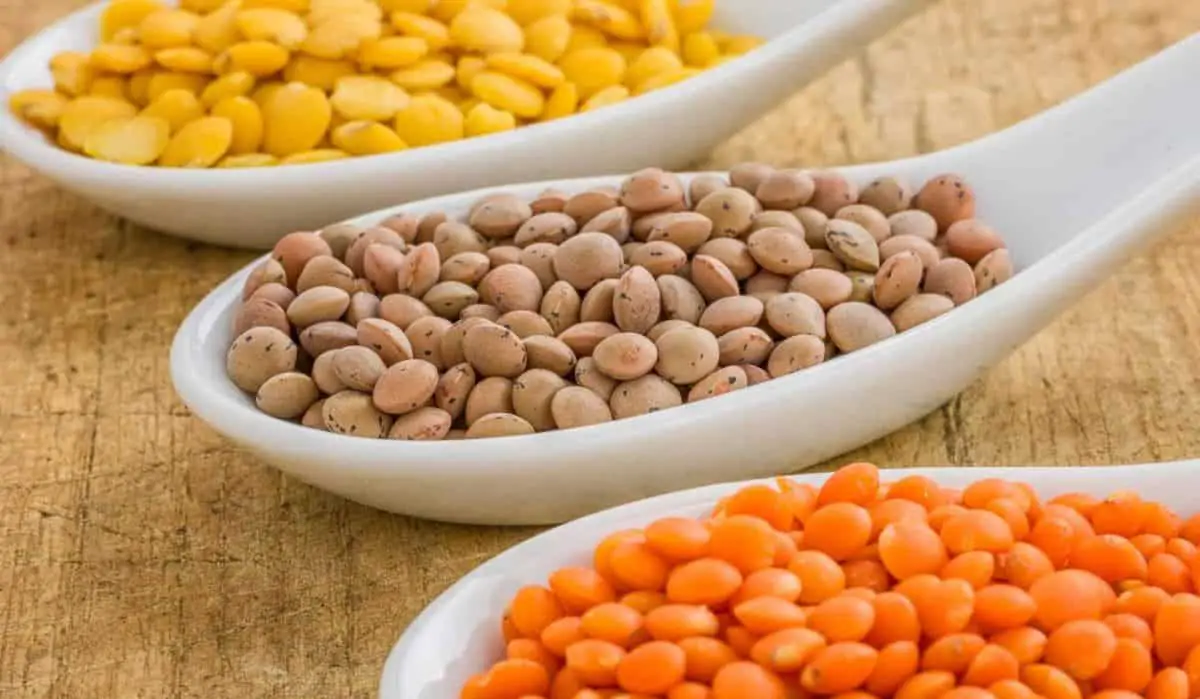 Lentils are edible seeds in the bean family. However, unlike dried beans, they don't require soaking before cooking. When it comes to aiding weight loss, lentils outperform beans. That's because they are lower in carbs and higher in roughage, helping to stave off hunger.
So, those are two merits of adding lentils to your diet. Here's how to discern them from other beans, plus answers to common questions about buying them.
1. What Do Lentils Look Like?
The word "lentil" derives from Latin, meaning a small optical "lens". Accordingly, lentils appear flat and disk-like. The most popular types are brown, green, and red. However, in some stores, you may find yellow and black varieties, too.
Given their rich hues, lentils add visual appeal to many types of cuisine. Examples are stews, salads, dips, soups, and side dishes featuring vegetables and grains.
Lentils pair especially well with quinoa, a chewy seed with a nutty scent and flavor.
Related: Quinoa in the grocery store
2. How Do Lentils Taste?
When cooked, each lentil species has a different consistency and flavor, as follows:
green – glossy sheen, firm texture, and nutty taste
French green – solid mouthfeel and peppery zest
brown – firm bite and mild earthiness
red – soft and sweet
yellow – mild, sweet, and creamy
black – tiny, the size of peppercorns, but with a big earthy flavor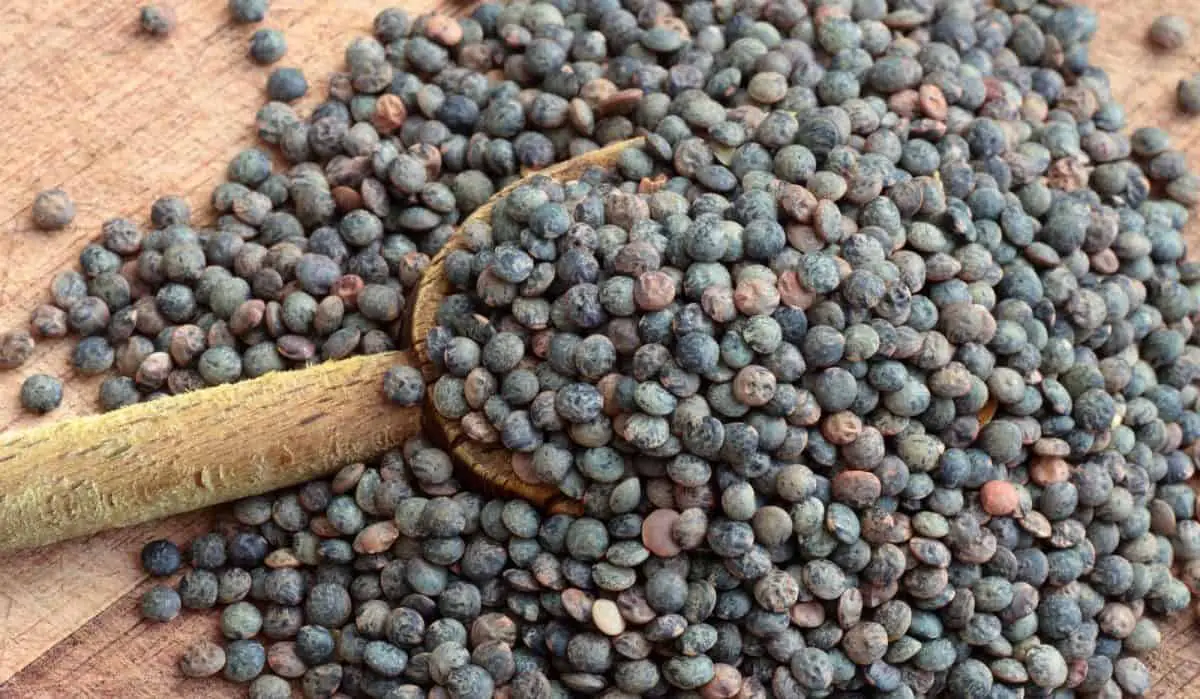 French green and black types are considered "specialty lentils", having distinct shapes and flavors. French lentils taste "flinty", meaning mineral-like. Furthermore, they're smaller than the green variety with a slate-gray hue.
Most impressive are black lentils, tasting like roasted chestnuts. Moreover, black lentils resemble Beluga caviar, being shiny and pearly. For this reason, they're also called "Beluga lentils", shown here.
3. Where To Buy Lentils?
You'll find lentils in most supermarkets, health food stores, and ethnic markets, such as Indian, Greek, and Italian. Such stores typically sell both canned and dried lentils. Some farmers' markets offer dried lentils, particularly in bulk.
Chain grocers often carry specialty varieties, such as French green and Beluga. Some natural food stores sell lentils in bulk quantities. For the broadest selection, do your shopping online, where you'll find canned, dried, organic, and bulk.
4. Where Are Lentils In The Grocery Store?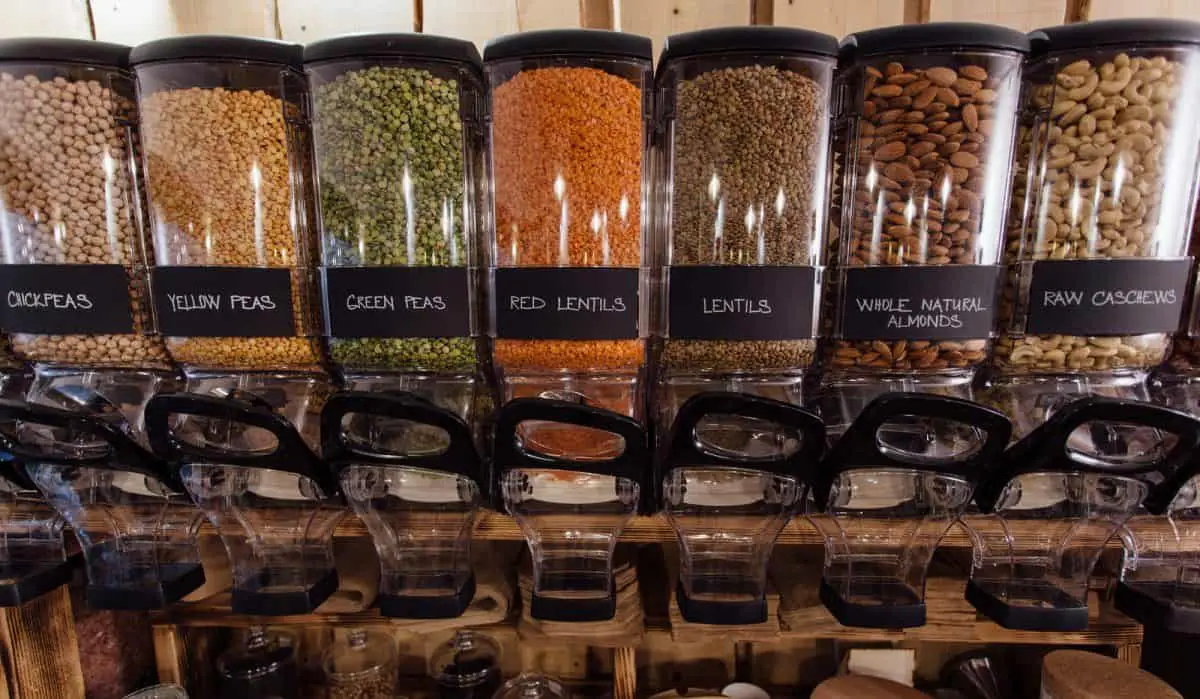 At chain grocers, the customary place for dried lentils is near the packaged beans and rice. However, if absent, check the soup mix aisle. While shopping for canned goods, look for lentils among their bean cousins.
Supermarkets with health food sections may keep organic lentils there. Possible locations are near the rice, beans, soups, or pasta.
Typically, natural food stores carry organic lentils, stocking them with the rice and beans. For bulk lentils, look in the bin section, especially for French green and Beluga varieties.
At Indian grocers, you may see red lentils labeled "masoor dal". Yellow lentils may be sold as "channa" or "toor dal".
5. How Much Do Lentils Cost?
Below are average prices and ranges for lentils sold by chain grocers, natural food stores, and online.
Dried
Non-organic – $.99 to $2.99/lb.
French green – $4.99/lb.
Beluga – $5.49 to $7.25/lb.
Organic – $3.99 to $4.99/lb.
Canned
Non-organic – $.95/15 oz.
Organic – $2.46 to $3.25/15 oz.
Do these costs appear steep? If so, consider that one pound of dried lentils yields about seven cups cooked. So, let's say you purchase organic lentils at $3.99 a pound. In that case, you'll pay 57 cents for each one-cup serving.
Still, you can save money using the tips below:
Buy packaged in larger units, such as five-pound bags.
Purchase lentils in bulk. An example of a bulk discount is $2.49 for a pound of loose green variety.
Compared with those packaged, you'll save 50 cents a pound.
Opt for canned lentils by the case, yielding a 5 percent discount, on average. A case is 12 cans, available online.
Shop at Indian markets. Frequently, their lentil prices are lower than regular grocery stores.
6. Are There Any Drawbacks To Canned Lentils?
While they're convenient, canned lentils are high in salt, typically having 500 or more milligrams per serving. The American Heart Association warns of exceeding 2,300 milligrams of sodium per day. Higher amounts increase your risk of high blood pressure, stroke, heart disease, and kidney disease.
However, you can easily reduce the sodium content of canned lentils!
Our Suggestion: After draining the liquid, place these beans in a colander. Next, rinse them under cool tap water for 10 seconds. Then, allow the lentils to drain in your sink for two minutes. Generally, this method cuts the salt level in beans by roughly 41 percent.
If possible, to avoid sodium altogether, cook dried lentils on your stove. Unlike other legumes, they cook speedily, taking 20 to 30 minutes, on average. Red lentils require the least time to prepare, and green varieties take the longest.
Likely Aisles
Finding lentils in the grocery store is relatively simple, whether you prefer them canned or dried. Typically, they're stocked near the rice, soup mixes, pasta, or other beans. For bulk lentils, possible sources are natural food stores, the Internet, and farmers' markets.
Regarding where to buy lentils in the specialty class, your best option is online. However, some chain supermarkets sell dried French green and Beluga types.
Stretch your food budget with lentils!
Are there any factors that can affect the lentils price?
Yes, there are several factors that can affect the price of lentils. Some of these factors include the type of lentil, the brand, the packaging, and the location where the lentils are sold.