If you are looking for not only delicious but also nutritious food, look no further than oysters. These bivalves are a true delicacy, prized by gourmets around the world for their unique taste and texture. But aside from their culinary appeal, oysters are also incredibly healthy for you, with a range of health benefits that make them a must for anyone interested in healthy eating.
Next, we will guide you through the world of oysters, from their nutritional value to their best uses in cooking. Whether you're a seasoned oyster lover or new to the bivalve world, read on for all the reasons why oysters should be on your plate.
Nutritional value of oysters
One of the main reasons why oysters are so beloved by health food enthusiasts is their impressive nutritional profile. Here are just a few of the nutrients you can find in a serving of oysters:
Zinc: Oysters are one of the best sources of zinc, a mineral that plays a critical role in immune function, wound healing, and DNA synthesis. Just 3 ounces of oysters contain over 400% of the recommended daily allowance for zinc.
Vitamin B12: Oysters are also an excellent source of vitamin B12, a nutrient essential for nervous system function, DNA synthesis, and red blood cell production. Just one serving of oysters contains over 1,000% of the recommended daily value of B12.
Protein: Oysters are an excellent source of protein, containing about 7 grams of protein per 3-ounce serving. Protein is essential for building and repairing tissues and can help you feel full longer.
Omega-3 Fatty Acids: Oysters are a good source of omega-3 fatty acids, a type of fat essential for heart health, brain function, and inflammation reduction.
Iron: Oysters are also a good source of iron, a mineral needed to make red blood cells and carry oxygen throughout the body.
These are just a few of the many nutrients found in oysters. Eating oysters regularly can help support overall health and well-being, and may also help prevent certain diseases and health conditions.
Types of oysters
There are many types of oysters, each with its unique taste, texture, and appearance. Here are some of the most popular types of oysters:
Pacific Oysters:
Also known as Japanese oysters, these are the most commonly farmed oysters in the world. They have a mild, sweet flavor and a plump, meaty texture.
Eastern Oysters:
These oysters are found along the Atlantic and Gulf coasts of North America. They are known for their briny flavor and smooth, creamy texture.
Kumamoto Oysters:
These oysters are native to Japan but are also farmed in the Pacific Northwest region of the United States. They have a buttery flavor and a delicate, almost floral aroma.
Olympia Oysters:
These are the only oysters native to the Pacific Northwest. They have a rich, coppery flavor and a small, delicate shell.
European Flat Oysters:
These oysters are found in the waters off the coast of Europe. They have a distinct mineral flavor and a firm, meaty texture.
Belon Oysters:
Also known as European Oysters, these are considered a delicacy in France. They have a strong, briny flavor and a metallic finish.
Sydney Rock Oysters:
These oysters are found in the waters around Australia. They have a sweet, slightly salty flavor and a plump, meaty texture.
Wellfleet Oysters:
These oysters are found on the Atlantic coast of Massachusetts in the United States. They have a briny, slightly sweet flavor and a firm, chewy texture.
How to choose a good oyster?
Choosing a good oyster involves assessing several key factors that can affect the quality and taste of the oyster. Here are some tips to help you choose a good oyster:
Smell:
A fresh oyster should smell like the ocean, with a briny scent. If the oyster has a strong or unpleasant smell, it may not be fresh.
Appearance:
Look for oysters that are tightly closed or have a slightly open hinge. Avoid oysters with broken shells, as this can indicate they have been mishandled.
Texture:
The texture of a good oyster should be firm and meaty. Avoid oysters that feel slimy or soft.
Size:
Generally, larger oysters tend to be meatier and more flavorful than smaller ones.
Location:
The location where the oyster was harvested can also affect its flavor. Some areas are known for producing particularly flavorful oysters, so it can be worth asking where the oyster came from.
Time of year:
The time of year can also affect the quality and taste of oysters. In general, oysters are considered to be at their best during the cooler months of the year, when the water is colder and the oysters are plumper.
Where to buy a good and fresh oyster?
The best place to buy good and fresh oysters depends on where you are.
If you are close to the coast, you can find local seafood markets or fishmongers that specialize in fresh oysters. If you are away from the coast, you can also visit specialty seafood markets or upscale grocery stores that have a good reputation for their seafood.
You can also order oysters online from reputable seafood vendors who specialize in delivering fresh seafood to your doorstep. Just be sure to read the reviews and research the company before you purchase to ensure their products are high quality and fresh.
Overall, it's important to buy oysters from a reputable source and to ensure that they are properly handled and stored before consuming them.
How much do oysters cost?
The price of oysters can vary depending on various factors such as the type of oyster, the location, the season, and the supplier. In general, the price range of oysters can vary from a few dollars to several dollars per piece. Some premium oysters can be quite expensive, costing upwards of $5 to $10 per oyster.
Ways to cook oysters
Tip 1:
Oysters should only be cooked when they are still alive. It is important to store them properly before cooking to keep them fresh and healthy. If the oyster is already open or smells bad, it should not be consumed. Choose oysters that are tightly sealed and have a fresh, salty flavor.
Tip 2:
To cook oysters, clean the shells and rinse them thoroughly in cold water. Then, using a peeler, carefully open the shell, being careful not to spill the precious liquid inside. After opening, use a small spoon to separate the oyster from the shell and discard the top shell.
Tip 3:
One of the most popular is their grilling. Preheat the grill to high heat and place the oysters directly on the grill grate, flat side up. Cook the oysters for about 5 minutes, or until the edges curl and the oyster liqueur bubbles. Remove the oysters from the grill and serve immediately.
How to serve oysters?
There are many ways to serve oysters, depending on your preference. Some people prefer to eat them raw, just drizzling them with lemon juice. Others like to add some hot sauce or mignonette sauce. For those who prefer boiled oysters, try sprinkling them with garlic butter or sprinkling them with parmesan cheese.
Another popular way to serve oysters is with crackers or bread. Not only will this add a delicious crunch, but it will also help soak up the juice left over from the oysters. Try serving oysters with a side dish or roasted vegetables for a healthier option.
Delicious and nutritious
Oysters are a true delicacy valued for their unique taste and texture. But beyond their culinary appeal, oysters are also incredibly healthy for you, offering a range of health benefits that make them a must for anyone interested in healthy eating. From their impressive nutritional profile to their long and rich culinary history, oysters are a food that is both tasty and nutritious. So, whether you're an oyster lover or just deciding to try this delicacy, it's time to try this nutrient-rich food. Enjoy!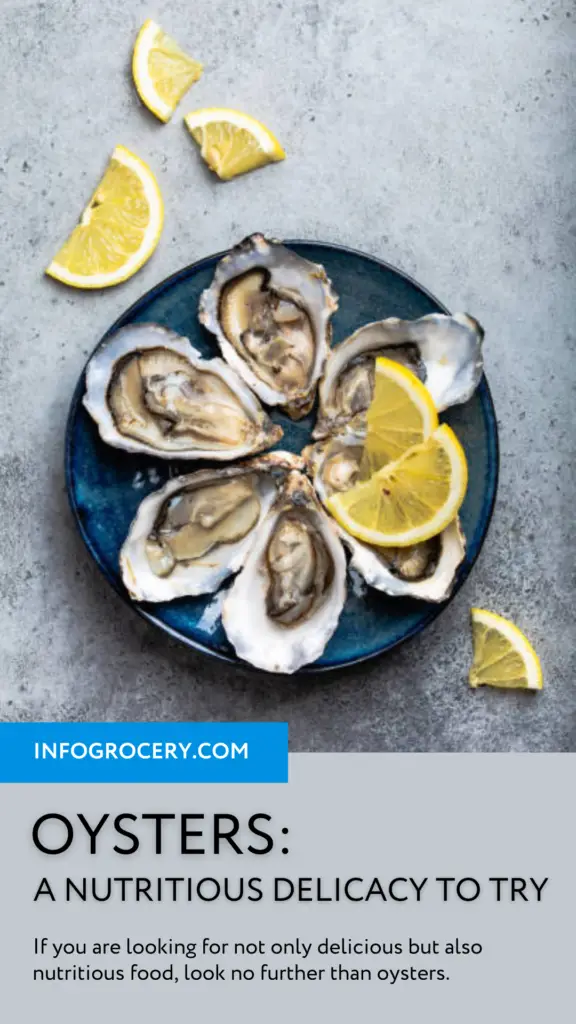 How should I store and prepare oysters?
Oysters should be stored in the refrigerator at a temperature between 33-40°F and should be consumed within 5-7 days of purchase. When preparing oysters, they should be thoroughly cleaned, and the shells should be tightly closed. Oysters can be consumed raw or cooked in a variety of ways, such as grilling, frying, or baking.