Would you like a super-nutritious swap for oatmeal, pasta, and rice? If so, quinoa is ideal. While you cook it like pasta, this whole grain is a pearly seed with a mildly nutty flavor.
Here's where to find quinoa in the grocery store, stores where to buy it, and how much it costs.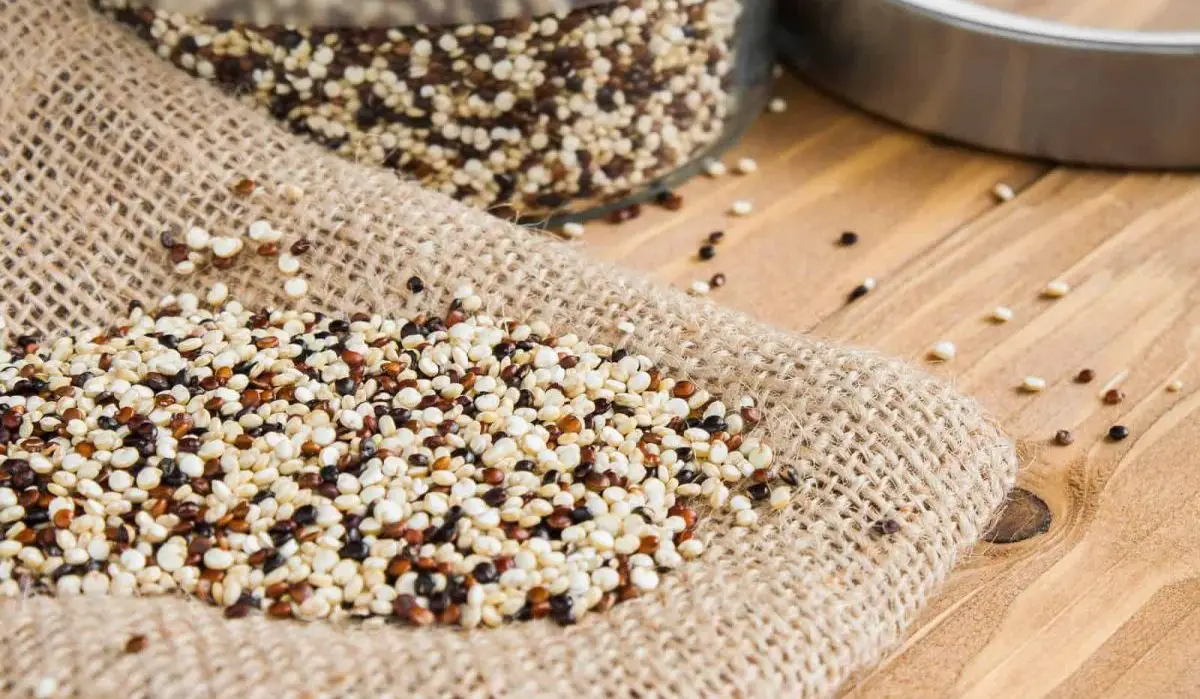 Quinoa Varieties
In South America, where it grows naturally, its colors span the rainbow. However, the varieties most commonly sold are white, black, and red, pictured here. The white type includes ivory and golden hues.
All species have a delightfully nutty taste. Still, red quinoa has the most, and the black variety is slightly sweet. Textures vary, too. White is delicate and fluffy, black is crunchy, and red is dense and chewy.
Where To Buy Quinoa?
Options for where to buy quinoa include physical stores and online suppliers, as follows.
Large Grocers
Within this category are chain supermarkets, large independent grocers, and warehouse clubs.
Health Food Stores
At most natural food stores, quinoa is a staple item, typically stocked in the grain section. Here, you'll find this whole organic grain. Other possibilities are flakes and mixed with grains, known as "blends." Tricolor quinoa is a combo of red, black, and white varieties.
Is baking a favorite pastime? If so, consider swapping wheat flour with milled quinoa, found in the flour section of health food stores. The pasta aisle will surely carry several versions. Also, don't forget to check the bulk bins, where you can find cheaper and tasty food items.
Online Retailers
If you prefer Internet shopping, browsing will reveal a slew of quinoa retailers, products, and brands. In fact, for the broadest selection, your best option is the Web.
You'll see every conceivable kind of quinoa — whole seeds, flakes, blends, tricolor, organic, pasta, toasted, sprouted, puffed, and even chips. Also available online is prepared quinoa, both precooked and microwaveable.
A quinoa cup is an instant version similar to oatmeal, a cinch to prepare. First, remove the cup lid and protective film. Next, add one-half cup of boiled water to the fill line. Stir the contents and steep for five minutes, covered with the lid.
Where To Find Quinoa In The Grocery Store?
Regarding where to find quinoa in the grocery store, its location varies with the type of retailer. To save mileage with your grocery cart, add it to your shopping list. Then, while strolling the aisles for your regular purchases, keep an eye out for it.
One common spot is the rice aisle, where quinoa keeps company with the brown rice and seasoned rice mixes. If you usually buy pasta, look for it tucked among the noodles. While selecting your frozen foods, check for the precooked version, possibly near the vegetables.
Suggestion: Why do you need to make a grocery list and how to start
Does the supermarket have a health food department? If so, you should see it there, including organic brands, flakes, pasta, and flour.
Alternatively, since it's gluten-free, some grocers stock it with other non-wheat foods. Another possibility is the bulk bin area, provided a store has one. Note that if you plan on eating it regularly, buying in bulk will save you money.
At this point, you may be thinking, "Why can't I just ask a clerk or customer service where they display it?" You can, but since this whole grain isn't widely known, you might be told the store doesn't carry it.
How Much Does Quinoa Cost?
As with all commercial goods, quinoa cost varies by retailer. As of February 2020, here are average quinoa prices and ranges:
Uncooked
Pasta – $2.79 – $4.95/8 oz
Flour – $6.49 – $8.99/lb
Organic Whole – $4.99 – $9.99/lb
Sprouted – $5.99/lb
Tricolor – $6.99/lb
Toasted – $7.99/lb
Flakes – $8.99 – $14.99/lb
Convenience Foods
Chips – $2.79/3.5 oz bag
Cups – $2.95/2 oz cup
Precooked – $2.99/3 oz container
Microwaveable – $2.99 – $4.35/8 oz pouch
Puffed – $12.99/lb
While it's priced lowest at warehouse clubs, their product selection is typically less than other large grocers.
Why Quinoa Satisfies
Quinoa, pronounced "keen-wah", is a great source of energizing B vitamins and iron. Each one-cup serving of this cooked whole grain has five grams of fiber, helping you feel pleasantly full. Additionally, it's high in protein, on par with cheese. Moreover, cup for cup, it has twice the protein of white rice.
While it expands like a grain when cooked, it's gluten-free. It also supplies goodly doses of muscle-loving nutrients, namely magnesium, potassium, phosphorus, and Vitamin E.
Enhancing Flavor
Toasting quinoa deepens its flavor. To achieve this, place the seeds in a dry skillet on your stove, setting the heat to low. Stir the seeds for about five minutes, until they start browning and popping. Remove them from the burner when a nutty scent wafts through your kitchen.
To save preparation time, toast a big batch, storing it until ready to use. After toasting, allow the seeds to cool. Then, keep them in an airtight container in your fridge, using them within six months.
Nixing Bitterness
Quinoa has a protective coating of saponin, a bitter-tasting substance with a soapy mouthfeel. Scientists speculate that saponin discourages birds from feasting on quinoa. Similarly, if you don't eliminate saponin before cooking it, the flavor will be harsh.
Thankfully, removing saponin is easy. Place the seeds in a fine-mesh sieve and hold it under your kitchen tap. Next, thoroughly rinse the quinoa with cold water, using your fingers to sift the kernels. Keep them under the tap for a minute or so, until the seeds have lost their soapy film. Then, shake the sieve to drain any excess water.
Cooking Quinoa
Quinoa cooks up fast, taking about 15 minutes, on average. Prepare it as you would pasta, except for one crucial difference — don't add salt to the boiling water. Otherwise, the salt will prevent the seeds from fully opening. In that case, your quinoa will resemble popcorn "old maids," meaning half-popped kernels.
To cook this whole grain, start by measuring water and seeds in a 2:1 ratio. Pour the water into a large stove pot, heating it to boiling. Next, add it and simmer at low heat for about 15 minutes.
When the kernels have popped, remove a spoonful to assess if cooking is complete. First, look for white rings and "tails" around the cores, pictured here. Then, take a bite. If the is tender, turn off the burner.
Here's another crucial step. After removing the pot from your stove, cover it, and let it sit for 10 minutes. This way, steam will further expand the kernels. Next, using a fine-mesh sieve, drain any residual water. Lastly, fluff and separate the seeds with a fork.
If you're pressed for time, you can opt for quinoa flakes, which are flattened seeds. Quinoa flakes cook in roughly two minutes, yielding a creamy cereal, smooth in texture like instant oatmeal.
Quinoa Cuisine
Add this cooked grain to snacks and meals, including breakfast, lunch, or dinner. It complements salads, casseroles, vegetable dishes, pilafs, plant-based patties, soups, tacos, and stews. Eat quinoa for breakfast, topped with fruit. You can also add milled or cooked to baked and breakfast goods, such as muffins, pancakes, waffles, cookies, pizza crust, and bread. Here's a collection of delicious recipes.
Precautions
In a bag of raw quinoa, the slightest saponin residue can smudge all the contents. So, even a package label states that it's pre-washed, rinse it anyway before cooking. This step ensures that saponin won't sour your appetite.
Secondly, as mentioned, it has a hefty amount of fiber. For this reason, don't exceed one cup of this cooked grain per meal. Otherwise, your digestive tract may protest with bloating, cramping, or constipation. If you usually don't eat much fiber, start with half-cup servings of it for about two weeks.
In Conclusion
Now you have several options for where to buy quinoa — chain supermarkets, warehouse clubs, large independent grocers, natural food stores, and online retailers.
Does food shopping always feel like a chore? If so, scouting for quinoa in the grocery store will enliven your outings. Consider them treasure hunts!

What is the cost of quinoa in the grocery store?
The cost of quinoa can vary depending on the brand, package size, and location of the grocery store. On average, a one-pound package of quinoa can cost anywhere from $4 to $8.