Even in the face of rising food prices and a troubling economy, you can save money on groceries.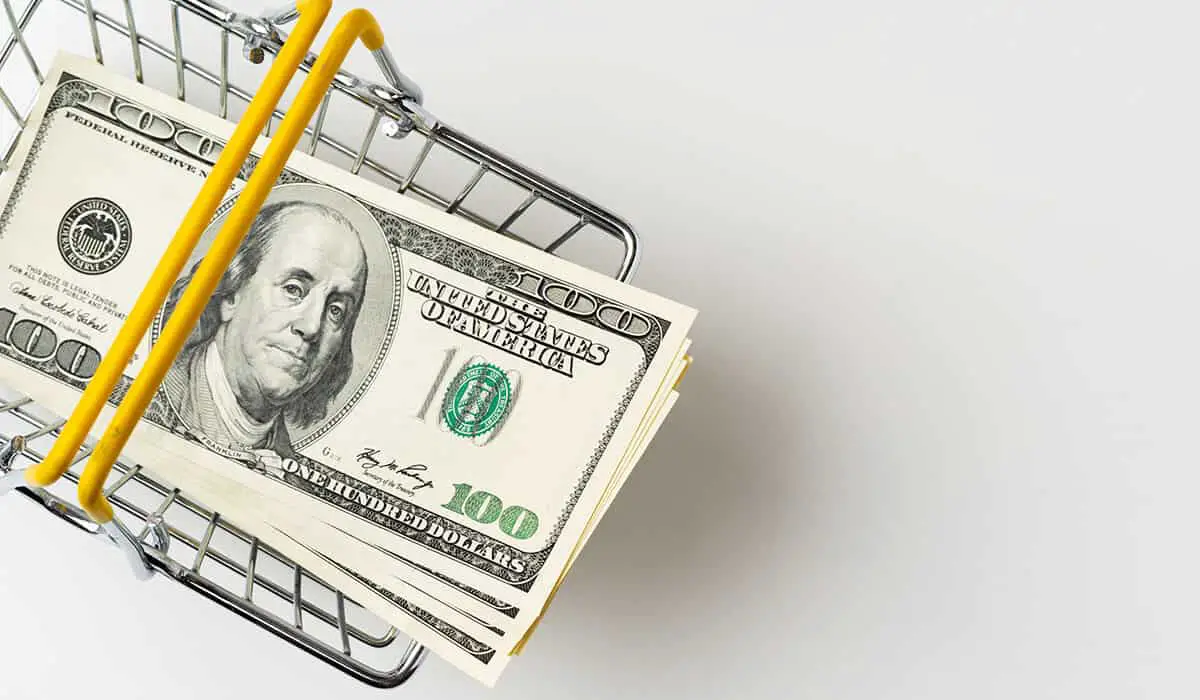 Here's a roundup of proven strategies from food-shopping experts.
1. Avoid food spoilage and waste
Are there certain types of food you routinely throw out? For instance, some people buy too much produce. I know it's easy to go overboard. Vibrant fruits and veggies are so enticing, especially when your favorites are in-season!
Still, overstocking can lead to stale, rotten, and moldy food. When that occurs, it's almost like pitching your hard-earned dollars into the garbage can.
You can easily prevent food waste! One option is freezing perishable foods before they have a chance to spoil. Did you know it takes less power to run a full freezer than a rather vacant one? By keeping your freezer well-supplied, you'll save money on electric bills.
If possible, dedicate time weekly to preparing freezer meals. For your safety, store food in freezer-safe plastic bags or containers. Be sure to mark the storage date on each package. To streamline thawing, divide bulk purchases into smaller portions.
You can also avoid food spoilage with other storage methods. Here's a fantastic resource, showing how to prolong the freshness of popular foods.
For more Earth-friendly ways to curb grocery waste, see this insightful article.
2. Try meal planning
If you don't normally plan meals a week ahead, do an experiment. Reserve a block of time to create menus for the next seven days. When planning meals and snacks, aim to use food you already have, including leftovers. Then, while grocery shopping, only buy necessities and items to complete your menus.
Here's how meal planning saves you both time and money. By thinking ahead, you're not mulling over what to serve each day. Instead, you breeze through food preparation. At the grocery store, you stick to the list you made in advance. So, you're less inclined to overbuy. Now, your fridge and pantry aren't stuffed to the max. Since you're eating food in a timely manner, none of it goes to waste.
Plus, on hectic days, you're not resorting to fast-food and take-out. Instead, you're enjoying the easy, healthy meals you've arranged for such occasions.
Once you taste the rewards of meal planning, you'll want to make it a habit. Without a doubt, this strategy will bring you great results about planning your grocery list and how much to budget for food.
3. Track your grocery inventory with lists
Lists will help you stay focused, giving you more budgetary control. Some people like to make lists on paper, while others prefer using a smartphone. Either way, shopping with a list keeps you on target, thwarting impulse buys and other regrettable purchases.
So, on food-shopping day, take an inventory of your fridge and pantry. While surveying the shelves, jot down the items you truly need. Be sure to assess your freezer and produce bins.
While noting what's meager, make a second list of what you have in abundance. Also helpful is having a magnetized notepad on your refrigerator door. Whenever you get low on certain products, record them on your convenient pad. Then, when finalizing your grocery list, include the items posted on your fridge.
Would you rather compile grocery lists with a smartphone app? If so, consider List Ease, free at the Apple Store and from Google Play. With this software, you can draft two types of lists — one for items already at home, and a second one for your next shopping trip.
For other top-rated grocery list apps, see this article by Good Housekeeping.
4. Find sales with store flyers and smartphone apps
Are you a regular patron at a certain grocery store? If so, after making your shopping list, review the store's weekly circular. If it's not delivered to your home, check the retailer's website. Then, look for deals that coincide with what you intend to buy. On your grocery list, highlight the goods on sale. For each one, note the brand, quantity, and discounted price.
Many supermarkets have their own apps, such as Target, Aldi, and Whole Foods. With the Target app, upon entering the items you want, the program flags those on sale. Moreover, the store map shows you where to find them!
Do you like to compare the prices at your area supermarkets? If so, get the Flipp app, free from Google Play and the Apple Store. Then, enter your zip code, and Flipp gathers the circulars for all the markets near you.
To view a particular flyer, click on the heart button. Flipp then bookmarks the store as a "Favorite." When the retailer issues a new circular, Flipp sends it to your Favorites tab.
Here's another way to save money with Flipp. Enter a desired item in the Search box. Flipp finds all the neighborhood stores that have it on sale. You can also narrow your options to a specific flyer. When you spot something you need, tap the image. Next, the app circles the product and saves it to your Clippings tab.
5. Use coupons wisely
Here's the key. A coupon only has value if you'll use the item advertised. If a coupon lures you into making a needless purchase, it's a bad influence, wasting your money.
One way to access coupons is by visiting a database, such as Southern Savers, Coupons.com, or TrueMoneySaver.
To facilitate claiming digital coupons, apply for a loyalty card with your favorite grocer. After signing up with the coupon database, add your store account. The search engine will find a corresponding local retailer that accepts virtual coupons. Then, at the "coupon gallery," click on those you'd like, and the app loads them to your loyalty card.
After you're done grocery shopping, swipe your loyalty card at the checkout counter. The register tallies your savings automatically. At some coupon databases, you can also print coupons and redeem them at a store checkout.
6. Earn cash with rebate apps
Save your grocery store receipts! You'll need them to use a rebate app, such as Ibotta. With this software, you first open an account at the Ibotta website. Then, indicate the stores where you often shop.
Before visiting a certain retailer, open Ibotta and tap the store icon. The program shows you the rebates available at that market.
Do any deals match what you plan to buy? If so, mark them on the Ibotta app. Once you're through shopping, open the program, and pick the option to claim the rebates. Then, scan the barcode for each eligible purchase, along with the store receipt.
Another way to find rebates is by linking the app to your loyalty accounts. Either way, within the day, the app credits each purchase you scanned. Once you reach the minimum withdrawal amount, you can cash it out through PayPal.
Typically, Ibotta rebates are for groceries and daily necessities, like soap. Some offers apply to brand-name products. Others are for any brand in a particular category, such as orange juice. Some rebates may be for less than a dollar. Still, the credits build, saving you money with each Ibotta use.
7. Shop at ideal times
This is one of the most important tips to don't neglect if you want to be profecient about how to grocery shop.
If possible, buy groceries on Wednesdays. Many supermarkets choose this day to issue their weekly circular. So, if you visit a store then, you'll be among the first shoppers to access sale goods. For the best chance, shop early in the morning, when most grocers mark their clearance items. Additionally, produce is often freshest when stores open for the day.
Note that Saturday is most popular for food shopping, followed by Tuesday. If you head to the supermarket on these days, the discounted goods could be sold out.
Also, avoid buying food when you're famished. Otherwise, hunger will drive you to stray from your shopping list. Then, you'll amass more food than planned, hiking your grocery bill. If you prefer food shopping after work, have a wholesome snack first, such as a piece of fruit and a handful of nuts.
Related: Why You Shouldn't Grocery Shopping on an Empty Stomach
8. Beware gimmicky store layouts
Grocery stores have clever ploys to raise profits. One policy is putting staple foods, such as bread and produce, at opposite ends of a store. This layout steers shoppers to inner aisles, encouraging them to buy more.
For those of us on tight budgets, meandering aisles is counterproductive. Instead, go after the must-haves on your grocery list. By this, you'll save precious time and money.
Another marketing practice is displaying expensive brands at eye-level, where most people tend to look. Instead, broaden your sights, scanning the lower and higher shelves, too. There, you'll find quality products, likely at better prices.
10. Buy dried beans versus canned
Beans are a stellar source of filling fiber and protein. They help lower cholesterol, reducing your risk of heart disease and stroke. Certain compounds in beans, called antioxidants, offer cancer protection.
Dried beans are always more economical than precooked ones. According to research by The Simple Dollar, here's a cost and yield comparison:
15-ounce can of cooked beans – $1.19, yielding 2 cups cooked
1 pound of dried beans – $1.99, providing 8 cups cooked
Here's a breakdown of the price per cup:
canned beans – 60 cents
dry beans – 25 cents
While precooked beans are handy, they're steeped in salt. Too much dietary sodium can elevate your blood pressure, along with your risk of heart disease. Furthermore, dried beans taste better than canned ones. The only drawback is the time it takes to prepare dried beans. Still, there are several ways to trim cooking time, explained in this article.
If you're super-busy at suppertime, buy lentils. These quick-cooking legumes are ready to eat in just 20 to 30 minutes. Since lentils come in many bright colors, they make meal planning especially fun.
9. Give store brands a chance
Here's another proven fact — store brands cost at least 20 percent less than name brands of the same items! This is the recent word from Consumer Reports, a nonprofit dedicated to product testing and public education.
In 2020, the organization assigned researchers to test 57 store brands against similar name brands. Roughly half the store versions tasted great, on par with the famous brands.
How can you tell if a store brand is high-quality? The best way is by reading the nutrition facts label. By law, manufacturers must list ingredients in volume order.
So, for example, if sugar tops an ingredient list, you know it dominates the product. In that case, choose a healthier alternative.
Typically, grocers display national and store brands near each other. This practice makes it easy to compare labels.
11. Bypass toiletries and convenience foods
Toiletries are personal hygiene and grooming products. Examples are shampoo, deodorant, razors, bar soap, dental floss, toothpaste, and nail clippers. While supermarkets sell them, they're usually cheaper at pharmacies.
Convenience foods are a broad category. Among the expensive types are:
precut fruits
prewashed greens
grated cheese
microwaveable meals
instant mashed potatoes
frozen lasagna
Ready-to-eat foods can cost three times more than unprocessed types. A prime example is prewashed salad greens. Plus, with some convenience items, such as packaged lettuce, the time you save is minimal.
12. Buy fresh produce in-season
Raw fruits and vegetables cost less when they're plentiful and locally grown. Conversely, off-season produce comes from distant sources. Since it travels farther to food markets, the transportation costs are greater, reflected in higher markups.
Frequently, produce stands have better prices than grocery stores. Most often, this occurs at ethnic markets, where the managers partner with local growers.
Whereas supermarkets rely on large distributors, ethnic markets function independently. So, they're free to buy food from small wholesalers and farms. Typically, prices are lowest when produce stands and farms are near each other.
Fresh produce is also cheaper at roadside stands. Usually, they're stationed within a two-hour distance of local growers.
Shopping at a farmers market can be costly. For the best deals, either arrive when it opens or an hour before closing. If you're an early bird, you'll meet welcoming vendors, eager to sell.
If you visit the market at day's end, you'll find antsy vendors, rushing to empty their booths. Many sellers close out by bundling items, offering them at a discount. They may also be willing to bargain with you. Still, the food may be of lesser quality and variety than earlier in the day.
Here's a monthly guide to seasonal produce in the US.
Mega Savings
To recap, here are the most economical ways to grocery shop. Start by minimizing food spoilage and waste. Along these lines, schedule time weekly for meal planning and making a grocery list. To know what's on sale at a given store, obtain its circular or trademarked app. Only use coupons and rebate apps for essential purchases.
When possible, avoid shopping on Saturdays, Tuesdays, and when you're starved. Referring to your grocery list, head straight to the appropriate aisles. To find the best prices on shelved items, look above and below those at eye-level.
When you have a favorite name brand, compare it to the store version, stocked nearby. If the ingredients are identical, buy the cheaper store brand. Its quality should rival the national brand.
Meanwhile, bypass toiletries, in favor of lower prices at pharmacies. You'll always pay extra for convenience foods, and the time-savings can be minimal.
For optimal taste and value, buy fresh fruits and vegetables in-season. Typically, you'll pay less for them at produce stands. For the best deals at farmers markets, be an early bird or a late-day customer.
Game Plan
All these strategies will lower your grocery bills. Still, don't feel pressured to adopt each one. Initiate changes by trying the first three tips — avoiding food waste, planning meals weekly, and always shopping with a grocery list. With these habits alone, you'll reap huge savings! Then, by degrees, incorporate some of the other suggestions.
Regarding meal planning, you'll find countless methods on the Internet. Based on experience, I recommend a simple approach, like the one outlined in this practical video.
While test-driving the above tips, track your monthly grocery costs to help you plan how much to budget for food. As you see them dropping steadily, you'll be ecstatic!
What are some tips for healthy grocery shopping on a budget?
The article provides many tips, but some examples include: creating a meal plan, shopping at discount stores or buying store brands, buying produce in season, and using coupons or sales.