How are you suppose to choose right from all the different types of peppercorn found on the grocery store shelf?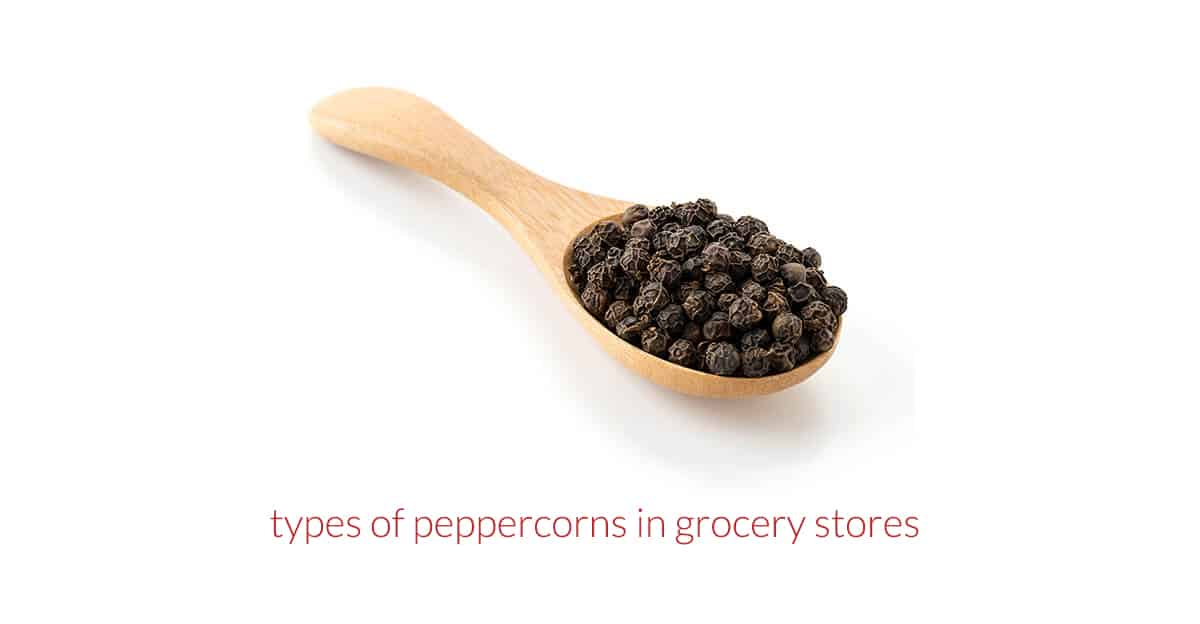 Every grocery store shelf contains more and more choices in all brands, including a large selection of different types of peppercorn.
Almost every recipe you use will make the statement, 'salt and pepper to taste.' This straightforward instruction often has you just adding a grind of pepper with a pinch of salt and leaves you hoping that you got it right.
Few know that to add salt and pepper correctly takes knowledge, skill, and the right type of peppercorn.
The proper way to add pepper and salt is to pair the two of the right variety to the right quantity of food. You want both spices to improve your food dish, not overpower the other flavors.
While almost every recipe pairs the two together in the ingredient list- salt and pepper, the two have little in common. Salt is a seasoning for your food that will enhance the flavors, while pepper is a spice that will add flavor.
Choosing right from all the types of peppercorn offered for the dish you are preparing will help you add the right flavor. This list of peppers will help you make that choice:
Tellicherry Popcorns
Tellicherry popcorns are a popular choice for cooking. This pepper received its name after the region and port from where it is gathered.
Tellicherry pepper is one of the oldest sources of pepper you will find as well as the largest and darkest variety. This pepper has a complex flavor, which is why it has become so popular.
You can purchase Tellichery Popcorns at:
The Spice House
Walmart
Olivenation
Pure Indian Store
Amazon
Green Peppercorns
The green peppercorns are picked before they ripen, and can then be freeze-dried to preserve their bright color and smooth texture. These peppers will give you a tart and robust punch of flavor to begin, but the punch does not linger in your mouth for long.
The berries for the black peppercorn and the green are picked around the same time, but the green is not dried, so their enzyme is not activated. The green pepper comes in water, brine, or are freeze-dried. These peppers are excellent in vegetable dishes, meat sauces, seafood, and poultry.
You can purchase this type of pepper at:
The Spice House
Walmart
Snuk Foods
Amazon
Herbco.com
Peppercorn Medley
When several varieties of peppercorns are combined in one spice container, you have a Peppercorn Medley. Most peppercorn medley containers consist of a mix of rainbow colorful peppercorns.
The colors come from the pink, green, black, and white peppercorns, so you are getting a blend of flavors all from one package. These peppercorns will give off an aroma like no other you'll experience from spice and are mostly sold in grinder-type bottles and ready to use.
You will find Peppercorn Medley packages at:
Amazon
Walmart
Target
The Spice House
iHerb
Black Peppercorn
The black peppercorn is a dried berry and the strongest and most pungent of all the other pepper. This pepper is picked just before the berries ripen and are then dried in the sun.
As the pepper dries, an enzyme is released to darken the hull making them either dark brown or black. Inside of the hull is a lighter seed that will cause a difference in the color of the ground pepper. The black peppercorn comes in either ground, cracked, or the whole form all with a varying degree of coarseness.
This pepper is excellent in the whole form for stocks and pickling, in the cracked form for salads and meats, and for everything else in the ground form.
You can buy this pepper in almost any grocery store; even convenience stores typically carry this commonly used form of pepper.
In Conclusion
Most recipes call for a dash or sprinkle of pepper. When you've just started cooking, this measurement is difficult to understand.
One thing to remember is when it calls for small measurements, it really won't matter if you shake the pepper once or twice or turn the grinder five or six times. Five turns on your pepper grinder only measure about a 1/8 of a teaspoon.
Pepper is an antioxidant as well as an antibacterial agent, so not only are you flavoring your dish, you are making it healthier. Did you already know these different types of peppercorn?
What are the types of peppercorns available in grocery stores?
There are several types of peppercorns available in grocery stores, including black, white, green, and pink.